The Fault In Our Stars Casts Ansel Elgort As Gus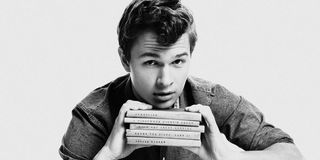 So much for the Cinema Blend bump. We were pulling hard for Admission's Nat Wolff to snag the lead role opposite Shailene Woodley in the young adult novel adaptation The Fault In Our Stars, but apparently, the people actually casting the movie and meeting with the actors in contention know something we don't. Entertainment Weekly reports that Ansel Elgort has snagged the role of Augustus Waters, the teenage cancer patient who falls for Woodley's Hazel, a girl also suffering from the disease.
The book's author John Green-- a beloved Internet figure with legions of fans-- signed off on the casting in a statement to EW:
Elgort had a bit of an edge going into the process-- he's already working with Woodley in Divergent, another adaptation of a young adult novel, but this one set in a Hunger Games-style dystopic future. Weirdly, Elgort is playing Woodley's brother in the film, and producer Wyck Godfrey is well aware that might be a little strange for fans of both: "His performance completely annihilated our concerns about his playing Caleb in Divergent with Shailene, and we are confident that the fans of Fault will fall in love with him the same way that Hazel does–slowly, and then all at once."
It's going to be hard to convince you if you haven't read the book, but The Fault in Our Stars is not remotely the sappy young adult romance about terminally ill kids that you're probably dreading. Yes, it's sad, and yes, it's about two kids who have cancer and will probably die young but who fall in love anyway. But it's also hilarious and honest and incredibly real about the emotions you have as a teenager, whether or not cancer is part of the picture. You know what would be easier? Just read the book, and then you can be excited and nervous right along with me as we wait to see how this adaptation turns out.
Your Daily Blend of Entertainment News
Staff Writer at CinemaBlend