Forbes Declares Eddie Murphy Hollywood's Least Valuable Actor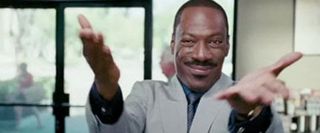 Hurtling into award season it's easy to get lost in all the incredible cinema made by charismatic and compelling performers and insightful and provocative filmmakers. But for all the art it may produce, moviemaking is always essentially a business.
Forbes reminds us of that by looking back on the last few years and computing which of Hollywood's stars are its LVPs, Least Valuable Players. To determine their top ten, these financially minded reporters compared the amount of money grossed by a star's last three films to the star's paycheck for all three. They determined these profits by assuming a film would need to make several million more than twice its production value to earn money back, accounting for the costs of advertising. Vulture put their top ten into an easy to follow list, viewable below:
1. Eddie Murphy (movies grossed $2.30 for every $1 paid)
2. Katherine Heigl ($3.40 for every $1 paid)
3. Reese Witherspoon ($3.90 for every $1 paid)
4. Sandra Bullock ($5 for every $1 paid)
5. Jack Black ($5.20 for every $1 paid)
6. Nicolas Cage ($6 for every $1 paid)
7. Adam Sandler ($6.30 for every $1 paid)
8. Denzel Washington ($6.30 for every $1 paid)
9. Ben Stiller ($6.50 for every $1 paid)
10. Sarah Jessica Parker ($7 for every $1 paid)
While some on the list seem obvious calls, it's surprising to see Denzel Washington here. The modest successes of The Book of Eli, Unstoppable, and Safe House prove to Forbes that the two-time Oscar-winner demands too high a paycheck. (Note: Flight was not considered as its totals are not in yet.) The rest of the list is noticeably dominated with actors associated with broad comedies and actresses associated with wacky romantic-comedies. But it's Eddie Murphy that comes out on top as the least valuable star.
Not counting voice work, which Forbes did not, Murphy's last three starring vehicles were Imagine That, Tower Heist, and A Thousand Words. By Forbes count, Tower Heist, which was produced for $75 million and made $152 worldwide, barely turned a profit, while the other two—whose budgets combined come to about $95 million and earned only $42 worldwide combine—are outright disasters.
The accompanying article reveals other mind-boggling revelations, like that Heigl has demanded a salary of roundabouts $12 million since The Ugly Truth, and that the completely forgettable Witherspoon-fronted romantic-comedy How Do You Know cost an absurd $120 million to make. Most interesting of all is that while much of this list is made up of beloved stars, our love for them doesn't translate into actually turning out for their films.
Staff writer at CinemaBlend.
Your Daily Blend of Entertainment News
Thank you for signing up to CinemaBlend. You will receive a verification email shortly.
There was a problem. Please refresh the page and try again.