Forget The Heat 2 - A Spinoff Is In The Works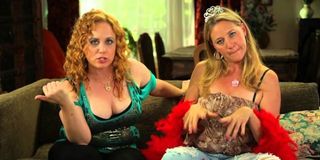 While Sandra Bullock has turned a cold shoulder towards the idea of a sequel to the comedy hit The Heat , director Paul Feig and the folks over at Fox aren't ready to give up on the crazy characters therein. Deadline reports Fox and Feig are at work on a spin-off of The Heat, which would focus on Beth and Gina, the scene-stealing girlfriends of Melissa McCarthy's character's brothers.
Comediennes Jamie Denbo and Jessica Chaffin play loudmouths Beth and Gina respectively, and brought a world of wild improvisation to the set that really made an impression on Feig, who'd previously worked with the pair on their Showtime pilot Ronna & Beverly back in 2012. If you check out The Heat's DVD/Blu-ray special features you'll see much more of this dynamic duo. Outtakes reveal how hard Chaffin made it for her onscreen boyfriend (Joey McIntyre) to keep a straight face as she ran off one ridiculous impromptu line after another. Then, Chaffin and Denbo took their Boston girl shtick to the press junket, where they harassed and/or flirted with reporters for more special features.
Feig told Deadline, "Jamie and Jessica are two of the funniest people on this planet. They took small roles in The Heat and turned them into characters worthy of their own movie. I can't wait to unleash Beth and Gina on the world. Run for your lives."
As to what Beth and Gina might be up to, that remains a mystery at present as Feig, fellow producer Jessie Henderson, and Chernin Entertainment iron out the details. In the meantime, these talented funnywomen have other irons in the fire. Universal has snatched up Denbo's pitch for Wedding Dance, while Vendome Pictures has attached Natalie Portman to her Best Buds screenplay. For her part, Chaffin will be seen on TV soon in episodes of New Girl and Showtime's Episodes.
But what does all this mean for The Heat 2? Seemingly nothing. Expecting it to hit big, Fox began development on a sequel months before the film even opened. The female-fronted buddy cop comedy proved a massive success when it came out, pulling in more than $229 million worldwide while garnering praise from critics. Fox was understandably eager to give Feig, Bullock, and McCarthy a shot to reteam, but Bullock put the kibosh on that, pointing out she doesn't have a great track record for sequels. Still, with money to be made and Feig still eager to revisit the adventures of Ashburn and Mullins, it's possible The Heat 2 could still happen. In the meantime, we'll have some comedy mayhem of Denbo and Chaffin to look forward to.
Your Daily Blend of Entertainment News
Staff writer at CinemaBlend.