Paul Feig Plans Gay Rom-Com And 9 Other Things We Learned Over Drinks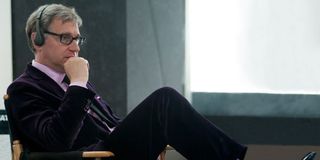 Yes, we said a gay rom-com, and one for which he might want to cast Channing Tatum*. But we'll get to that in bullet point #1 below. Let's talk about The Heat first.
Paul Feig is an enthusiastic and generous man. I learned this over the past week when I got a surprising invitation to join him for a dinner party to celebrate the release of The Heat on DVD and Blu-ray. Before attending this elegant affair, I was asked to watch over the disc's special features, which include intros from Feig, outtakes, bloopers, and behind-the-scenes featurettes. And frankly, I was astounded at the hours of all of the above Feig has unveiled.
There's a whole reel of Sandra Bullock breaking character, unable to keep from laughing as Melissa McCarthy cracks jokes and again and again insults her onscreen partner's attic-like lady parts. There's a special junket section where Jessica Chaffin and Jamie Denbo harass reporters as well as Bullock and McCarthy while staying in character as the crass and clueless Boston babes Gina and Beth. Feig's love of improvisation is shared through countless alternate takes where his stars offer one insane line after another, while their co-stars try desperately to keep a straight face.
Also in the mix is a featurette all about Feig's preference for dapper dress at all times. Many modern directors favor a t-shirt, jeans, and ball-cap while helming tent pole released, but Feig is ever decked out in three-piece suits, complete with ties and pocket squares. Watching this, I blanched wondering if as a blogger, whose job allows me to look like a slob 99% of the time, I even owned anything fancy enough to attend. Thank god for the little black dress.
The event itself was a total delight, with Feig sharing his ardent enthusiasm for his comedy smash hits (Bridesmaids and The Heat ), as well as dishing out cocktails and fancy dishes like pineapple carpaccio (which is apparently a thing) along with details on upcoming projects with Topher Grace, and Jason Statham as well as a surprising romantic comedy starring Channing Tatum and a new SNL member. Here's what I learned.
1. The biggest news Feig dropped between courses was that he is in development on a romantic comedy in which he'd like Tatum to star, which he expects will turn the genre on its head (worth noting-- Tatum's reps have emphasized that Feig's enthusiasm does not mean anything is actually happening yet. So this is mainly wishing and hoping at this point). But before you start pondering which pretty starlet with share space on its poster, let me tell you it's a gay rom-com. It's premise is that a normal schmo gets involved with someone as crazy hot as the Sexiest Man of The Year, and basically can't cope. In mind to co-star opposite Tatum, or a Tatum-type at least, is SNL's newcomer, John Milhiser. Feig has been a fan of this comedian for years, and actually introduced him to Lorne Michaels. While Milhiser hasn't had a big moment on SNL just yet, you can see him doing a pretty solid Jon Cryer impression below:
2. Feig is a big fan of Saturday Night Live, but especially Bobby Moynihan and his Drunk Uncle. Feig actually considered Moynihan for the role of Mullins' ex-con brother in The Heat, though Michael Rapaport was ultimately cast. But don't cry for the SNL star, Feig is confident the two will work together soon.
3. Another surprise: Jason Statham is being eyed for the cast of Feig's in-the-works espionage comedy Susan Cooper, which stars McCarthy as a female James Bond. For his part, Statham could return to the goofy humor that began his career, playing a badass whose quick exit is foiled when his jacket pocket gets caught on a door handle, pulling him back and knocking him out. The movie's current alternate title is Spy, though Feig admits he has no idea what it will be when it eventually hits theaters.
4.Watching the Bullock crack up in outtake after outtake, I was curious how difficult it was to edit the film together. Feig told me he uses his favorite line reading, and will do whatever it takes to salvage a take he loves. For instance, in the bathroom scene where the foul-mouthed local cop Mullins (McCarthy) is cutting off uptight FBI agent Ashburn's (Bullock) pants into hatchet-job hotpants, Bullock could not keep it together in the wide shot take Feig preferred. So, Feig's editing team composited two takes together. In the final film, from the waist down is one take, from the waist up is the other. Basically, Lars von Trier is taking a page from Feig for Nymphomaniac, whether he knows it or not.
5. Aside from SNL, Feig's TV addictions include Scandal and The Walking Dead, though he wouldn't call himself a horror fan. For him, the show is all about contemporary political climate and the Tea Party, and its this a political commentary that draws him in along with the zombie-plagued narrative.
6. He told us that when casting Freaks and Geeks it was important to him to pick people who looked the part of each titular group, as opposed to a bunch of models they'd throw geeky eyeglasses on. He is pleased to see more of this approach on television, and believes its riskier cable TV shows that are leading the charge. Little wonder then that he's working on a HBO show-- and speaking of which...
7. Next week he is shooting a pilot for HBO that stars Topher Grace. The could-be comedy show is called People in New Jersey and co-stars snarky comedienne Sarah Silverman and Broadway legend Patti Lupone. At this stage, Feig told us, it is just a pilot and has not yet been picked up to go to series.
8. Impressed by his dedication to dapper dress on set, I asked what inspired him to get so gussied up for a job whose dress code is so lax. He told me he enjoys dressing up, but also noted that Alfred Hitchcock and Preston Sturges always wore suits while directing. For him, it's also a way to tap into the Classic Hollywood era he so admires.
9. No surprise here: Feig is a big fan of the fast-talking dames and screwball comedies of Hollywood's Golden Age. He counts Bringing Up Baby as a favorite, and adored Barbara Stanwyck's comedic turn as Sugarpuss O'Shea in the lesser-known Howard Hawks comedy Ball of Fire. He went on to lament that was a time where men and women were equally represented on the screen.
10. Asked why this changed and men began to dominate hero roles--and nearly all other roles--Feig surprised me by speculating Jaws and Star Wars were to blame. With the 1970s rise of blockbusters, studios started focusing on what teen boys like. Feig believes this heavily influenced the last several decades on cinema, pointing out that most of the roles offered to actresses in this time reflect how teen boys view women: objects of lust, or nagging mothers. He's thrilled to be a part of moving women—especially wildly funny ones—back into cinema's spotlight.
The Heat will come out on DVD and Blu-ray on October 15th.
*An earlier version of this story said that Channing Tatum and Jason Statham were in fact involved in the planned projects, but Feig's reps have reached out to let us know that's not the case. Channing is a wish-list pick. Statham is in talks.
Staff writer at CinemaBlend.