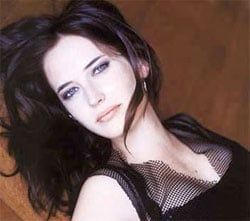 I'm still not convinced the JLA movie is moving forward, but it if is, then it might finally have a "name" attached to it. Moviehole is running a rumor about Casino Royale Bond girl Eva Green who reportedly flew into Sydney, Australia for an audition, according to The Daily Telegraph. The story explains that Green clearly wasn't in Sydney for The Golden Compass's premiere, which she opted not to attend.
So, who would Green be a contender for? Clearly the first answer is Wonder Woman, who she definitely has the look for, and was even rumored as a possibility for the Wonder Woman movie, although that role has reportedly been cast with Megan Gale in the role. Remember, however, when dealing with JLA, almost nothing has actually been confirmed as of right now, which is part of my skepticism about the movie actually happening. Most of the heroes have villainous counterparts though. Could Green be the evil Wonder Woman twin? (and, of course, here's where I get slammed in comments for not knowing D.C. characters and their arch-nemeses).
Eva Green would be an interesting casting choice because, thanks to Casino Royale and The Golden Compass she's definitely an actress to watch right now. She could be the "name" for the movie that it hasn't had yet. Then again, this could just be more useless speculation and baseless rumors.
Your Daily Blend of Entertainment News