Independence Day Confirms 2 More Returning Actors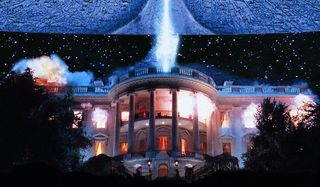 After years of rumors and false starts and never really getting anywhere, Independence Day 2 has finally started rolling. They've already brought back some familiar faces, as well as added new cast members and characters to the alien invasion actioner, and director Roland Emmerich took to social media to confirm two more actors are coming back.
Using his Twitter account, Emmerich confirmed that both Bill Pullman…
…and Judd Hirsch will both officially be back to battle invaders from another world in the upcoming sequel.
Pullman, you'll remember, plays American President Thomas J. Whitmore. He may be a politician, but as a former pilot he's still a man of action, and leads the underdog human forces to victory in the big climactic battle in Emmerich's 1996 original. Hirsh plays the crotchety, cigar-chomping Julius Levinson, the grumpy father of Jeff Goldblum's David Levinson. Goldblum is also confirmed to be back, and hopefully, for humanity's sake, he'll be able to come up with another brilliant idea to save the day, like giving the alien ships a computer virus. Somehow I doubt the same trick will work twice.
We last saw Bill Pullman back in the fall in the Denzel Washington revenge thriller The Equalizer, and he showed up in the recent Shakespeare update Cymbeline. For his part, former Taxi star Hirsch has recently appeared on shows like Maron and Forever, and even had a part in last year's schlock-fest Sharknado 2: The Second One. We've heard that both could and likely would be back, but if Emmerich is announcing it to the whole world, it seems pretty official, though it remains to be seen how big their roles will be in Independence Day 2.
They join other returning actors, including Jeff Goldblum, Brent Spiner, and Vivica A. Fox, as well as some new blood. Survivor's Remorse star Jessie Usher has been enlisted to play the son of Will Smith's Captain Steven Hiller (though there will be no Smith to be found here). Though there is no word on who he'll play, Liam Hemsworth is also set to star, and you can bet he plays someone heroic. Charlotte Gainsbourg, star of Lars Von Trier's two-part Nymphomaniac saga, also recently signed on, as did Joey King.
Over the years, the plan for Independence Day 2 has gone through some major changes. At one point it was envisioned as a two-part affair that would film back-to-back, and there were reports that two scripts were commissioned, one with Will Smith's character, and one without. The latest screenplay been rewritten by Carter Blanchard and, reportedly set 20 years after the events of the first film, finds humanity preparing for another visit from our angry space neighbors, which, as you probably guessed, comes to pass. Wouldn't be much of an alien invasion movie without invading aliens, would it? What would Roland Emmerich use to cause large-scale chaos and destruction?
Independence Day 2 is set to begin filming later this year and is scheduled to blow up theaters worldwide June 24, 2016, almost exactly 20 years after the release of the first film.
Your Daily Blend of Entertainment News