Interview: The Immaculate Conception of Little Dizzle Writer-Director David Russo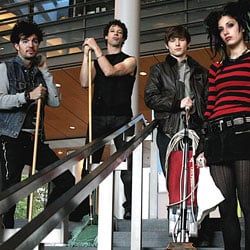 Before sitting down with writer-director David Russo, I was already well aware of my fondness for his film The Immaculate Conception of Little Dizzle. Learning about the actual event that inspired this bizarre story in no way effected my opinion on the piece, but it certainly made me appreciate it in a new way.
Little Dizzle chronicles the events after Dory (Marshall Allman) loses his desk job and takes a position at Spiffy Jiffy Janitorial Services cleaning up an office building. It may sound like a dismal gig, but Dory's new co-workers know how to get the job done fast, efficiently and have some fun while doing it. Their routine is disturbed when cookies are thrown into the equation, self-warming cookies nonetheless. The gang becomes addicted to the tasty treats, so much so that they completely ignore the strange effects the food is having on their bodies.
And that's not even the least of it. Little Dizzle depicts an occurrence so bizarre in such a hilarious manner, it's shocking yet oddly amusing. Despite the event's seemingly implausible nature, the idea stems from a very real experience of Russo's. Check out what led Russo to create Little Dizzle, the extensive shooting that went into making just the opening sequence and more in the interview below. For those of you living in New York City, I highly recommend seeking out The Immaculate Conception of Little Dizzle during its limited engagement at Tribeca Cinemas. The film is also currently available On Demand.
Your Daily Blend of Entertainment News
Staff Writer for CinemaBlend.