Interview: Taylor Kitsch On Why He Put Himself Through Hell For John Carter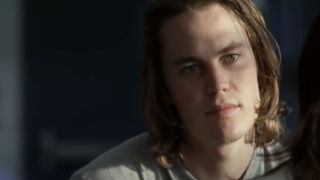 (Image credit: NBC)
Taylor Kitsch seems kind of proud that he went through hell for John Carter. The actor's bare chest has been splashed on posters and TV spots for months now, in character as the Earthling, Civil War veteran John Carter who is suddenly transported to Mars-- and though Kitsch started his career as a hockey player and played the athletic Tim Riggins on Friday Night Lights for years, you don't come by abs like that naturally. But the months of training and restrictive diet wasn't even the hard part-- try falling face first into dirt as hard as concrete take after take, or even playing the title character in a movie directed by Andrew Stanton, who has loved the John Carter of Mars books since he was a child. Kitsch had every reason to kill himself for the role-- and by all accounts, he did that and more.
It's kind of obvious to say it's fun to talk to Kitsch in person-- he's easy on the eyes, after all-- but in both our longer sit-down interview and the short video conversation, it was surprisingly fun and easy to strike up a conversation. He had just flown in from the South Pacific, where he was doing advance press for Battleship and shooting one last scene for the Oliver Stone drama Savages, and while it's clear how much affection he has for the massive experience of John Carter, he's even more excited for the many different roles he'll be playing this year. I talked to him briefly about Battleship and the expectations put upon him for two huge movies in a row, but we also went over the physical and emotional toll of John Carter, how a hockey career translated into acting after an injury, and how he's different as an actor thanks to the John Carter experience. Check out the video below, and beyond that, the transcript of our longer conversation. And of course, you can see John Carter in theaters everywhere now.
How does a hockey career turn into an acting career? Those two don't link up very often. What put the acting bug in your head?
It's a pet peeve of mine when actors are like, "I've been acting since I was 5," and they did a play or something at school. But I've always loved it. I loved telling stories, getting laughs. A lot of that kind of stuff. Like I was voted funniest person and shit at school-- I would do anything for a laugh. And hockey, I attribute so much of that to who I am now. The work ethic, the leadership, and I think I apply those tools into my work now.
And hockey gives you such a physical background that has to help you for something like this. But this is different from hockey. What do you have to relearn that's new for something like John Carter?
Being athletic helps so much, especially with the action, and what goes on in John Carter is so emotionally driven too. You learn and learn, and that work ethic comes into play with the sword training. I picked that up faster. The wire work, it helps being athletic so much. God knows it can take you out of it if these jumps look terrible. Those things are all just such a benefit.
You fall on your face in the dirt so many times when you're first learning to jump, it's like you're fearless going into these things.
That was a big thing for me, the sacrifice. It's part of the escape for me. I'm going to go all out to do that. Even when we were shooting the learning-to-jump falls, where he's getting so mad, that fucking hurt. Because that was like concrete, the dry lake bed. But I knew that it was just part of the whole thing, and that journey that he goes on. I would rather go do that than just get through it.
Andrew is pretty open about how much the story has meant to him since he was a kid. He's as attached to John Carter as anybody is. Did you guys have to link up in that attachment?
Yeah, in that respect, and that love for it. It's his childhood dream, and I come from a couple sides. One, it's an honor to bring life into his childhood dream, which is a trip to me. And the opportunity to bring somebody in emotionally, it's the biggest high I have. For me it makes it all worthwhile, the passing out from exhaustion, the 4:30 am wakeup for 7 months, the times where you're questioning why you do what you do, and then you get someone who says "That was fucking great," and you're like, "There you go."
I'm going to assume Battleship is not as heavy duty emotionally as John Carter. When you're done something like this and you're in every scene with all these emotions, does that make something like Battleship easier, or give you another perspective on how that works?
Yeah, I think it was with Pete [Berg] to reconcile with him, and we're so close. It's more fun and popcorn. These kids are going to die watching both movies, but with Battleship…And that was just me sitting down with Pete and going, there's got to be that emotional element as well, but it isn't as strong as JC.
Did you latch on to that emotional element more than you would have before John Carter?
Yeah, I tend to take myself so fucking seriously, so it was nice to go and have Pete take the piss out of me, like you know what, let's just make a fun movie. I needed that, and to do that and go to work with Pete and challenge each other. I think Battleship, I don't think people have seen much of the humor in me.
We haven't seen much of the humor of that at all in the trailers.
Yeah. But the humor of Hopper, it's quite hilarious, at least I think so. And it was just a cool moment for me as an actor, we can actually play some fun shit, do some real hysterical stuff.
There's a double-edged sword of having two movies out in one year, where you can have an amazing year, or people can get sick of you. Do you feel that pressure going into these two huge movies?
I ended on a note of Savages, and I'm telling people to buckle up for that. And that is a 180 character. That is what I'm very proud of, they're so different each one. I would be really apprehensive if each character was super similar, then I'm kind of fucked. But yeah, I'm not going to lie, you can work yourself up and have that anxiety. But that's why I work myself so hard. No matter what you say or anyone says, I wouldn't change what I put into it.
Your Daily Blend of Entertainment News
Staff Writer at CinemaBlend