It's Time To Grow Up: Books To Read Before Seeing The Movie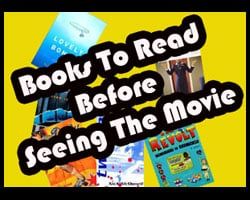 I hated reading in high school. In fact, I don't think I ever read a book assigned in its entirety. It wasn't that I was rebelling against being forced to read a particular book; I was a good student and almost always did what I was told. I could have picked up a book in my spare time, but I had better things to do. It wasn't until I had nothing better to do with my free time, that I gave reading a chance.
My first job after graduating from college was a News Assistant at NY1 News. Being a News Assistant is an extremely physically demand job – I'm a small girl who was carrying 60 lbs. in camera equipment ten hours a day - but there's also a ton of down time. One day, I waited over four hours for a perpetrator to be escorted from a prison to a waiting car. (Yes, capturing a perp walk is that important in local news.) I was desperate for entertainment and that desperation was sated by the medium I despised most, books.
I didn't do a complete turnaround and become an avid reader. There's one rule to my book selection process: the book must be in the process of being adapted to film or optioned for adaption. Clearly my passion is film. Combine the entertainment of reading a book with a passion and you get the ultimate source of pleasure. Even beyond the immediacy of the entertainment derived from reading, having read a book before seeing the film adaption is one of the most exhilarating things I've ever experienced.
The whole process is fascinating; to see who's cast, what they look like in full costume, seeing the story unfold on screen, even assessing what portions of the book are translated and what parts are removed. When you read a book without accompanied imagery, you're creating a world using your imagination. Yes, a good author will provide a detailed narrative so the reader can properly assemble the environment the writer strives to convey, but every reader's world differs to a point. Then, when you see that world come to life on film, the wheels in your mind spin nearly out of control. You're not just a spectator; you're part of the film. It's not just the author's story being brought to life, it's yours too.
Most of you will get this experience when you check out Where the Wild Things Are on October 16th, but there's a whole bunch of movies coming out soon that find their origins in fantastic books. Here are a few you might want to read before seeing the movie.
Shutter Island Shutter Island has left a bad taste in my mouth. It's nNot that I don't expect the film to be any good, I'm just bitter that I have to wait so long to see it. The film adaption of Dennis Lehane's novel was due to hit theaters this month, but recently was pushed back to a February 2010 release. Maybe I'll just have to read the book again. It's about two U.S. Deputy Marshals, Teddy Daniels and Chuck Aule, who are sent to Shutter Island to investigate a missing persons case. This isn't just any missing person; Rachel Solando is a patient at Shutter Island's Ashecliffe Psychiatric Hospital, home of the criminally insane. The book makes your head spin so much you'll feel like an Ashecliffe patient yourself. (In Theaters February 19th, 2010)
Derby Girl You're probably more familiar with the name of the feature film version of this book, Whip It. The book is about a young girl named Bliss Cavendar who'd rather get rowdy on the roller derby track than participate in beauty pageants. Knowing her parents will not approve of her new hobby, Bliss sneaks off to the Doll House to kick some ass as Babe Ruthless of the Hurl Scouts. The character Bliss screams Ellen Page. Think a non-pregnant Juno with athleticism. A fun side note, the author of Derby Girl, Shauna Cross, is a member of the Los Angeles Derby Dolls roller derby league. She also wrote the screenplay for Whip It. The movie already hit theaters, but Derby Girl is a quick read and still worth checking out post-film. (In Theaters October 2nd, 2009)
Up In The Air With all of the Oscar buzz surrounding Up In The Air, reading the Walter Kim novel the film is based on is a must. George Clooney plays the lead character, Ryan Bingham, a guy who travels the country working as a career transition counselor. Simply put, he flies around the country firing people. Ryan's somber line of work and lack of a social life are of no concern to him. He has something much more important to worry about, earning one million frequent flyer miles. After reading the book it was very hard to imagine it being successfully translated to film. It has a plot, but it doesn't seem strong enough to drive a feature length film. I guess when you have Jason Reitman behind the lens and George Clooney in front of it, anything is possible. (Limited Release on December 4th, 2009. Opens Wide on December 25th, 2009)
The Lovely Bones Alice Sebold's novel The Lovely Bones is one of the most moving pieces of literature I've ever read. By the time you finish it, you'll have gone through an incredible range of emotions. It's about a young girl named Susie Salmon who's brutally murdered on her way home from school. From there we see her watch over her family from heaven and how her passing changes their lives. While the book may be perfect for film, it's also a very temperamental piece. Depicting heaven on the big screen can go one of two ways; it can be completely rejected or wholeheartedly embraced. Based on the trailer and early buzz about the film, Peter Jackson will not disappoint. On the other hand, I can't say the same for Mark Wahlberg. Thanks to his performance in The Happening and Andy Samberg's portrayal of him on Saturday Night Live, it'll be difficult to take his performance seriously. (Limited Release on December 11th, 2009. Opens Wide on January 15th, 2010)
Twelve Now this is a film that deserves much more attention than it's been getting. Not only does Twelve have a fantastic cast, but the book that it's based on is phenomenal. It was written by Nick McDonell when he was just 17-years-old. It's about a bunch of kids, mostly wealthy, living in Manhattan and the impact drugs, sex and violence have on their lives. Chace Crawford will play the main character, White Mike, an extremely bright student known for selling the best marijuana money can buy but never indulging in any alcohol or drugs himself. I certainly wasn't picturing White Mike to be as pretty as Crawford, but I'll sacrifice my imagination to be able to look at Crawford for a couple of hours. Another unusual casting choice is Rory Culkin. I think he's a fantastic actor, but for obvious reasons, I just don't see him playing a tall basketball player. Anyway, the best part of the book is the climax. You become so absorbed with the characters that when that grand ending comes you'll be in a serious state of shock. Seriously. (In Theaters 2010)
Youth In Revolt If you read any of these books before seeing their film counterparts, Youth In Revolt by C.D. Payne should be the one. A movie with a cast including Michael Cera, Justin Long, Zach Galifianakis, Ray Liotta and Steve Buscemi sounds like a guaranteed success, but it can also turn the tale from a humorous yet meaningful coming-of-age story into a comedic absurdity. Cera plays Nick Twisp, a kid who takes teenage rebellion to the extreme. He starts out as a guy who isn't thrilled with the parents he's been given and turns into a wrecking crew when his love for a girl he meets on a family trip drives him insane. With the help of his alter ego, Francois Dillinger, Nick is willing to do just about anything to win Sheeni's heart. Removing portions of a lengthy book to turn it into a movie is necessary but can be detrimental. Taking out particular parts of Youth in Revolt can easily strip the story of its warmth and turn it into any old teen comedy. (In Theaters January 15th, 2010)
Staff Writer for CinemaBlend.
Your Daily Blend of Entertainment News
Thank you for signing up to CinemaBlend. You will receive a verification email shortly.
There was a problem. Please refresh the page and try again.