James Brown Biopic Finds Its Mick Jagger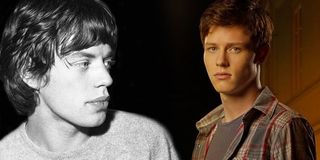 With staggering sex appeal and serious star power that has lasted generations, Mick Jagger is more than a man; he's an icon. Which makes casting someone to play his younger self in a movie a pretty daunting endeavor. (Like casting Freddie Mercury almost!) But at long last the search of Get On Up filmmakers has ended, as THR announces Nick Eversman has signed on to play the Rolling Stones front man in the James Brown biopic.
Eversman has an impressive list of film and TV credits considering he only made his screen debut in 2009 in a little-known crime-drama called Innocent. Since then, he has appeared in televisions shows like The Missing, CSI: Miami and House, as well as landed roles in movies like Hellraiser: Revelations, Vampires Suck, and the horror-thriller The Depraved. However, he might be best recognized for his recurring role on the new CW sci-fi show The Tomorrow People. But frankly, whether you know him or not doesn't' matter. This ingedude has convinced Jagger himself that he's worthy to step into his shoes.
See, Jagger is producing Get On Up along with Brian Grazer, Erica Huggins and Victoria Pearman. So, he definitely had a say on casting. Realizing that playing a rock icon could be the chance of a lifetime, Eversman made the most out of it, preparing an audition tape that offered a side-by-side comparison of his performance to actual Jagger archival footage. As the cherry on top, he also included footage of him performing The Stones song "Time is on My Side," from the HBO movie Cinema Verite.
Eversman joins a cast headed by Chadwick Boseman (42) that includes Viola Davis, Dan Aykroyd, Octavia Spencer, and Craig Robinson. Written by Steven Baigelman, Jez Butterworth, and John-Henry Butterworth, Get On Up will chart Brown's story from his humble beginnings to his well-earned reputation as The Hardest Working Man In Show Business, and his eventual drug-aided downfall. Tate Taylor, helmer of the Academy Award-winning adaptation of Kathryn Stockett's novel The Help, will direct.
But this is just one of the potential launching pads Eversman is taking on in the near future. He's recently wrapped on three features, including the Dominique Schilling drama A Reason, the biopic Victor from writer-director Brandon Dickerson, and mysterious horror flick called Home. But more promising than these three projects is Wild. Based on the Cheryl Strayed memoir, the biopic that puts Eversman opposite Reese Witherspoon follows one woman's journey across a 1,100 mile hiking trail. Both Wild and Get On Up are now in production, and expected to open in 2014.
Your Daily Blend of Entertainment News
Staff writer at CinemaBlend.