Jane Levy Talks Blood, Giggles, Scratches, Swamps And Everything Evil Dead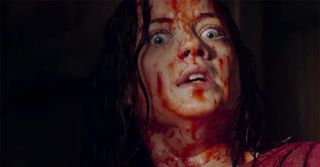 While I won't go into full detail here, you should know that Jane Levy does some horrible, horrible things in the upcoming Evil Dead. If you've read my review of the film from South by Southwest or at least heard the buzz about it from its premiere, you know that the film is absolutely insane, hellish, gory fun, and the secret to it all is the Suburgatory star. And despite Bruce Campbell's insistence that Evil Dead movies are extremely hard to make, that didn't stop Levy from having fun.
The day after the Evil Dead screening at SXSW I had the pleasure of quickly chatting with the actress about her starring role. Read on below to learn about Levy's great time playing a demonic psycho, how she decided to differentiate her character, Mia, from her role on her ABC sitcom, and why director Fede Alvarez says that nobody can take punishment quite like her.
SPOILER WARNING: Evil Dead is most definitely a movie that you have to see in order to get the full effect, however, if you'd prefer to go in knowing as little about the movie as possible know that there is some spoiler content in the interview below. The section is clearly marked, so feel free to read on, but scroll carefully!
It's always great to meet a fellow red head…
I'm a phony. But I'm strawberry blond.
Kind of on that note, did you have input into the look of your character and just actually, in general, how much did you get to collaborate on this character?
Yeah, I really wanted not to have red hair.
Why?
Well, I just wanted to do something very far from what I spend most of the year doing, working on ABC's Suburgatory. And I play the quirky 16-year-old red-headed quip master. And it's a new project and totally different horror film, so I wanted to look different and I asked them to dye my hair dark and I asked them to make it longer and it was sort of a fight - that I won.
And just in terms of adding to the character, Mia, what kind of stuff did you work with Fede on or even Sam or Rob or Bruce?
We did a lot of talking. It's funny. It was a year ago and I'm having a hard time remembering some of the actual acting rehearsals, because there isn't that many scenes in the movie, actual dialogue scenes. I think there's a couple in the first 25 minutes and then from there on it's screaming and swearing and bleeding.
Actually, on that note, last night, when Fede Alvarez was introducing the screening, he said, "Nobody can take punishment quite like Jane Levy." What exactly did he mean by that? Was it that rough?
Well, it might look like everybody was tortured in this movie...
Yeah, I kind of got that sense [laughs].
But, most everyone was only in demon makeup for maybe a week, and I was in demon makeup, I think we counted, 37 days, of the shoot.
SPOILERS AHEAD!
How long was the makeup process?
It was a six hour process and also I swim through that swamp, I'm soaking wet the whole movie, the whole blood rain scene was just me for two weeks outside in the middle of winter under blood rain. I got a horrible ear infection because of the blood. I was buried alive three different ways. I had tubes stuck down my throat so I could projectile vomit. While I was buried alive, I had a plastic bag tied around my neck while blood was squirted all over my face. I had to run through those thickets. Some of that was real. I had scratches everywhere. I had to fall down the hill. I had to... What else is there?? So, everyone had their moment, but for me, it was long. Oh, I to cut my tongue in half, in that cellar and I wasn't wearing shoes and I was soaking wet and I had to lick that girl's lip and oh, when I blood kissed her, I had a tube of blood in my mouth, like a huge thing that was shooting in her face.
NO MORE SPOILERS! HEAD TO THE NEXT PAGE!
You were just up for this, all the way? You never went for a stunt double or anything like that?
No, my stunt double did a lot of work. She's really great. Crystal deserves so much credit, but I did do...
As much as you could.
And I actually could, this is totally bragging but, there's this scene in the movie where I pull that shotgun up and I'm holding it and I had to be able to hold the shotgun for a long time because the shot follows all the way up and I have to be holding it straight and it's sort of heavy and I could hold the shotgun longer than my stunt double.
There you go!
But she really is amazing. She's out in that swamp and there was a lot of us dressed as Mia, because there was so many of her and there was so much time as that person and so much time in the makeup chair that they needed to have doubles.
One of the things that I love about the Evil Dead franchise in general is just the fact that it's able to mix this great sense of horror with comedy. How did that effect the atmosphere on set?
It's scary, but it's also fun. The hardest scenes were the emotional ones and also the physically taxing stuff, but being evil was really fun. I just watched b-roll and it reminded me and I'm peeking my head out of the cellar and I'm saying horrible things, like, "Fuck, fuck, fuck, fuck, fuck..." and then I break into laughter and I'm giggling like a little girl and I'm like, "Was that good?" and then I'm like, "What should we do now?" and he just goes, "Try this," and so then I'm doing some nasty thing with my mouth where I'm suction cupping the back of my lip with my tongue and doing some perverse face and then I giggle some more and so it was really fun to be a psycho.
How much time did you actually get to spend with Sam Raimi and Bruce Campbell?
I never met Sam Raimi in my whole life. He has made... He was the final decision maker for everything and he has been behind the scenes, watching the dailies. He was very much involved, but he works directly with Fede and Bruce [Campbell] and Rob [Tappert]. He was busy working on Oz, I think and other various projects and I can't wait for the day when I get to shake his hand.
For more of our SXSW 2013 coverage, click HERE.
NJ native who calls LA home; lives in a Dreamatorium. A decade-plus CinemaBlend veteran; endlessly enthusiastic about the career he's dreamt of since seventh grade.
Your Daily Blend of Entertainment News
Thank you for signing up to CinemaBlend. You will receive a verification email shortly.
There was a problem. Please refresh the page and try again.