Jem And The Holograms Look Truly, Truly '80s In This Outrageous First Look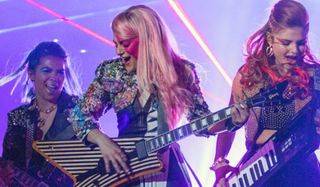 We're all in for one truly outrageous blast from the past when the Jem and the Holograms movie hits theaters on October 23rd. The film adaptation of the '80s animated TV series was announced last year, but we're only now getting our first official image of the gals rockin' out on stage. We're still trying to figure out if the movie itself will be as outrageous as the original show, or if we can just look forward to a trio of wannabe Hannah Montanas.
Universal Pictures officially released this nice hi-res image online today (click on the image to see it full size), and there's tons of glitter, Lisa Frank-style makeup, heavily Bedazzled jackets, and a crazy light show theatrics. The end result? Basically what I imagine an updated version of Dazzler from X-Men to look like - only here I wouldn't be surprised if these ladies were singing something as annoyingly catchy as Rebecca Black's "Friday." Pictured in the image, from left to right, are Aja (Hayley Kiyoko), Jem (Aubrey Peeples) and Kimber (Stephanie Scott). But what about Shana? Aurora Perrineau is set to play the fourth member of this group, but I guess every musical ensemble needs its own version of Michelle Williams from Destiny's Child.
In addition to the four leading ladies, Jem and the Holograms will also feature Ryan Guzman. The sexy dancer/actor with washboard abs from the Step Up movies and J.Lo's The Boy Next Door is playing Rio in the film. He's the road manager and technical engineer for the group, and he's also boyfriend of Jerrica Benton – which is Jem's alter-ego. Rat Pack actress Molly Ringwald and Juliette Lewis have also been cast, though details on their roles in the movie are limited.
Jon Chu's Jem and the Holograms tells the story of an orphan girl's journey to becoming a hit recording star in the hyper-linked-in age of social media. This plot finds Jem and her sisters on a "music-driven scavenger hunt" — whatever that means — through LA as they try and find a final message that was sent to Jem by her father. It seems quite different from the original series, as there's still no talk of Synergy, the holographic supercomputer that Jem's dad leaves her after his death. I don't know how on board I can be with this movie if Syngery isn't a part of this. She was basically the heart and soul and unofficial mascot of the original TV series.
Any chance she could be reimagined as an iPhone or something?
Your Daily Blend of Entertainment News