Jennifer Lawrence Is Playing A Hot Mess Opposite Amy Schumer, Wait What?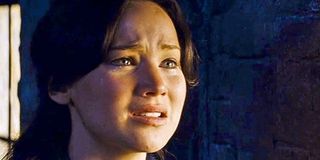 Earlier this year when it was revealed that Amy Schumer and Jennifer Lawrence had not only become best friends but that they were also working on a screenplay together the world suddenly seemed like a better place. Since then we've all been patiently waiting for further information regarding their comedic collaboration, and now Jennifer Lawrence has provided just that, teasing that her character is going to be out of control.
Jennifer Lawrence made this revelation while out promoting the fourth and final instalment of The Hunger Games franchise, entitled Hunger Games: Mockingjay - Part 2. With her time as Katniss Everdeen now at an end, Lawrence's thoughts have turned to her future work, first and foremost of which is her film with Amy Schumer.
Entertainment Tonight quizzed her on the screenplay that she's writing with her BFF, which led to Jennifer Lawrence offering the world some more information on the film's story about the two sisters that she and Schumer play. Lawrence explained:
The fact that Jennifer Lawrence tailed off at the end of making her remarks says pretty much everything you need to know about how much inspiration the Academy Award winning actress has taken from her own life for the character.
Other than that, we still don't really know anything about Schumer and Lawrence's potential film. Discussing its plot, Lawrence added that it's not just "funny" and "dirty" but it's also "real" too, while she added that, so far, their script is only populated with female roles as "there's not really boys in it."
Is that something that the pair plan on changing? Who cares!? Because, either way, it's safe to assume that any male characters will firmly be reduced to supporting roles because the main draw of Amy Schumer and Jennifer Lawrence's comedy will be Amy Schumer and Jennifer Lawrence.
While Jennifer Lawrence has been captivating and enchanting us over the best part of half a decade with her roles in X-Men: First Class, The Hunger Games, American Hustle, and Silver Linings Playbook, Amy Schumer only shot to mainstream prominence recently thanks to her leading performance in Trainwreck, which she wrote.
In fact it was because of Trainwreck, and it's impression on Lawrence, that the latter decided to strike up a friendship with Schumer, which then led to them rather spontaneously collaborating together on this screenplay. We can expect further titbits regarding their work to come over the next few days, as Jennifer Lawrence will no doubt be inundated with questions on it while promoting Hunger Games: Mockingjay – Part 2, which will bring the franchise to an end on November 20.
Your Daily Blend of Entertainment News
Thank you for signing up to CinemaBlend. You will receive a verification email shortly.
There was a problem. Please refresh the page and try again.