Jenny Lumet To Translate The Language Of Flowers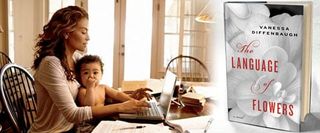 Jenny Lumet, the daughter of legendary American director Sidney Lumet, began forging her own path in filmmaking as a screenwriter in 2008 with the Jonathan Demme-directed family drama Rachel Getting Married. The emotionally fraught film won Lumet several critics' association honors and even scored its brooding leading lady, Anne Hathway, her first Oscar nod. However, despite all this buzz, Lumet vanished from the spotlight and little has been heard about the lauded scribe until now, when Deadline revealed her long-awaited follow-up will be The Language of Flowers.
Based on the novel by Vanessa Diffenbaugh, this poetic drama will follow the story of a homeless young woman named Victoriawho finds solace in a garden. There, a local florist discovers her as well as her talent for flower arranging and promptly offers her a job. From her new post, Victoria finds a unique vantage point to influence people around her for the better, and also uncovers a path to a dark secret she had long forgotten.
As the lead character mainly expresses herself through her floral arrangements, The Language of Flowers seems sure to be a visually lush film. Yet I have my reservations about a successful adaptation that centers so firmly on flowers. Admittedly, I can't help but think of Charlie Kaufman's troubles adapting the non-fiction flower tale The Orchid Thief, which spiraled into the wildly meta comedy Adaptation. Sure, it was an inventive and engaging feature, but it had little resemblance to the source material and even less to do with flowers. Simply put, I'm not sure how you make a film about flowers, but am eager to see what Lumet will create, since Rachel Getting Married was such an intriguing exploration of the ties that bind and sometimes strangle. In my mind, Lumet's someone worth rooting for.
Your Daily Blend of Entertainment News
Staff writer at CinemaBlend.
Your Daily Blend of Entertainment News
Thank you for signing up to CinemaBlend. You will receive a verification email shortly.
There was a problem. Please refresh the page and try again.