Josh Hutcherson Confirms He's Still On The Spider-Man Shortlist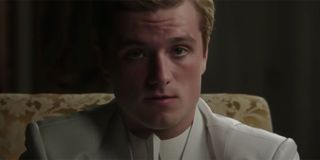 The process of casting the new Peter Parker for Sony's Spider-Man reboot has already chewed up one talkative young actor-- tough luck, Logan Lerman-- but still-shortlisted Josh Hutcherson is not deterred. The 17-year-old star of this summer's terrific indie The Kids Are All Right talked to Movieline recently and admitted he is still on the shortlist, and that it's a little terrifying having all this scrutiny on him for a role he may not even get.
He didn't have all that much to say, of course-- "it's an honor," "it'd be an amazing role," "I'm really excited for them restarting either way"-- but it's nice to know that he didn't just lock up entirely when the subject of the webslinger came up. Below is an excerpt of the interview for you Spidey completists. After seeing Hutcherson in The Kids Are All Right I'm rooting for him to get the part, so hopefully some slightly loose lips won't doom his chances.
Your Daily Blend of Entertainment News
Staff Writer at CinemaBlend