Julianne Hough In Talks For Nicholas Sparks Adaptation Safe Haven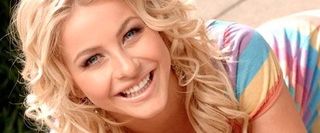 As someone who became famous for dancing on America's most insane television show-- that would be Dancing With the Stars, of course-- Julianne Hough seemed destined to have one of those movie careers that's an instant punchline, like that time Cindy Crawford tried acting. And yet in her first starring role in Footloose, Hough was a surprisingly appealing presence as the rebellious preacher's daughter Ariel, and her performance was one of the many things that made the movie far more enjoyable than it could have been.
Now she's taking that onscreen charisma into two very different roles, as part of the musical Rock of Ages and then Diablo Cody's upcoming directorial debut. After that she's now planning to take the pit stop that virtually every up and coming actress has at one point or another: the Nicholas Sparks movie. Variety reports that she's in talks to star in Safe Haven, another adaptation of a Sparks novel that will be directed by Lasse Hallstrom, who also made 2010's Dear John. Hough will play a woman "whose arrival in a small North Carolina town prompts its tight-knit community to question her mysterious past." Yup, sounds like just about every other Nicholas Sparks book, give or take a shocking death and a cute dog.
Based on the book's description at Amazon, Duhamel will presumably be playing Alex, the widowed father of two who becomes close to Hough's character Kate, even though she's struggling to hide a dark secret in her past. Safe Haven was published last year and, like, nearly all of Sparks's books, was an instant success. Eager to cash in, Relativity Media is planning to have the film adaptation in theaters February 8 next year-- yes, just in time for Valentine's Day. Say what you will about the people making these Nicholas Sparks movies, but they know what they're doing.
Staff Writer at CinemaBlend
Your Daily Blend of Entertainment News
Thank you for signing up to CinemaBlend. You will receive a verification email shortly.
There was a problem. Please refresh the page and try again.