Jurassic World Deleted Scene Covers Chris Pratt And Bryce Dallas Howard In Poop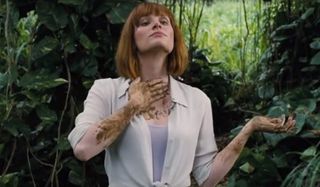 You might have noticed that Jurassic World caused quite a stink at the box office when it was released earlier this summer. Despite having Avengers: Age Of Ultron and Furious 7 for company, Jurassic World blasted past them all and is still the highest grossing film of the year, so far. But it could have been even more stinky if a certain scene featuring Chris Pratt, Bryce Dallas Howard, and a whole lot of dinosaur dung had been included. And that's a scene that you can now check out in all of its disgusting glory below.
Sometimes it's hard to understand why particular deleted scenes have been scrapped from films. However, this -- shared by CBR Trailers -- isn't one of them. Sure, it's funny, cute, and helps to bring Bryce Dallas Howard's Claire Dearing and Chris Pratt's Owen Grady closer together, but it's also completely unnecessary.
It's also, kind of gross. Actually, not kind of gross, it's full on repulsive. I mean, sure the pair need to cover themselves in poop in order to keep hidden from the encroaching dinosaurs that are almost certainly going to maim and eat them, but it's still hard to watch.
Kudos to director Colin Trevorrow and actors Chris Pratt and Bryce Dallas Howard for trying to create what would have been cinema's most odious homage to The Graduate though. I would really love to have been there to hear Trevorrow's particular direction to Bryce Dallas Howard as she smeared what we can only hope was fake poop on her legs.
It's also a great example of Chris Pratt's comedic skills. Whether it was scripted or actually improvised, Pratt is able to make the line, "Did it get in your mouth?" seem like an off-the-cuff remark, and it immediately makes the scene umpteen times better.
Would it have fit into Jurassic World though? Well, perhaps. It certainly is as funny as anything else in the film. But its inclusion would have risked stretching the blockbuster to breaking point, as it was already on the brink of being a bit too long anyway. Jurassic World was the surprise hit of the summer, ultimately going on to gross $1.665 billion, making it the third highest-grossing film of all time, and rejuvenating the franchise in an instant. Along the way it broke numerous box office records, including the highest opening weekend ever as it took in $500 million worldwide.
As you'd expect, because of this meteoric success, a Jurassic World sequel was soon ordered. Director Colin Trevorrow is only returning as a co-writer, while both Pratt and Howard will be reprising their roles. Jurassic World 2/Jurassic Park 5 will be released on June 22, 2018.
Your Daily Blend of Entertainment News
Thank you for signing up to CinemaBlend. You will receive a verification email shortly.
There was a problem. Please refresh the page and try again.