Justin Lin Will Direct An Adaptation Of The Celebrated Manga Series Lone Wolf And Cub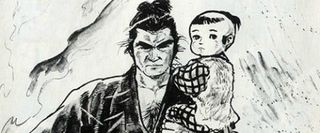 Adaptation is always a tricky game but its especially tough when the source material is highly regarded as a classic. Whether working from a successful novel, comic book or even previous movie, filmmakers will inevitably have to 'answer' to an already established fan base of rabid followers. Sure, there's the bonus of seemingly guaranteed patrons, but when you add fanboy fanatics following your each and every move, the project's life span can be as short as the time it takes for negative buzz (and bitching) to traverse the internet. Just ask Warner Bros. about their failed attempt(s) to make a whitewashed adaptation of Katsuhiro Otomo's celebrated manga series Akira.
Well, fanboy's better start doing their vocal exercises and get ready to cry foul because another, and perhaps even more beloved, seminal text is being brought to the big screen. Deadline reports that Kamala Films picked up the rights to the celebrated 70s manga series Lone Wolf and Cub, written by Kazuo Koike and illustrated by Goseki Kojima. For those who don't know,the series was largely the inspiration for Max Allan Collins' Road to Perdition and factored into the end of Kill Bill: Vol. 2. The Bride's daughter B.B. alludes to the previous Japanese film adaptations of Koike's series and, who knows, maybe Vol. 3 might feature the mother and daughter doing their own Lone Wolf and Cub-style adventures. I digress.
While reservations about the project are justifiable, the epic adventure has some pretty talented people attached to help assuage fanboy fears and bring the tale of the nomadic samurai assassin, Ogami Itto, and his three year old son, Daigoro, to live-action. Screenwriters David and Janet Peoples are charged with adapting the source material with director Justin Lin also attached. The writers' credits are more than impressive and represent the first promising piece of the puzzle with films like Twelve Monkeys, Blade Runner and Unforgiven on their resumes. Those are not only three great films (two masterpieces) but they fit the Lone Wolf and Cub series' tone and themes perfectly, especially the Clint Eastwood game changing western. As far as putting Justin Lin in the director's chair, he certainly showed his action chops with Fast Five, the best blockbuster of last year, but I'm not wholly convinced in his ability to tell a sprawling tale of "stark beauty, kinetic fury, and visceral thematic power." And, well, samurai assassins!