Kate Winslet Confirmed To Play Jeanine Matthews In Divergent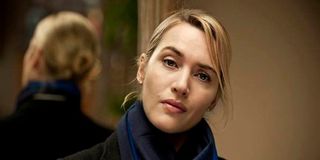 Back in January, we learned that Kate Winslet was in talks to join Shailene Woodley in Neil Burger's feature adaptation of Veronica Roth's young adult dystopian story Divergent. At that time, there was no confirmation on who Winslet would play, but process of elimination led us to believe it would either be the mother to Woodley's character Tris, or the less likable Jeanine Matthews, leader of the Erudite faction. As it turns out, it's the latter. Summit/Lionsgate confirmed Winslet's casting today, announcing that she'll be playing Matthews in the film.
Divergent is set in a dystopian future and centers on teenager Tris Prior, a girl living in what's left of Chicago, where society has been broken up into five factions, which determine a person's way of life. Tris grew up in Abnegation, the faction known for its selflessness. When she comes of age, she must decide if she wants to stay in her family's faction or abandon the life she's known and join a new faction. When she makes her decision, she begins a series of tests and training to determine her place among her people.
Winslet's character is the leader of the Erudite faction. They're the Ravenclaws, so to speak - meaning, they're known to be scholarly, and Jeanine Matthews is the smartest of the bunch, having earned the top seat among the faction due to having the highest I.Q. Of course, being smart doesn't automatically make her good, as we eventually come to learn throughout the first book. (opens in new tab) With that in mind, it'll be interesting to see Winslet take on a less likable character. And confirmation of her casting in the film is certainly fantastic news.
Summit made the wise choice of acquiring the rights to Divergent months ahead of the first book's publication. The series has gone on to become one of the more popular planned trilogies (Book 3 is due out in October (opens in new tab)) among today's young adult books. In addition to Woodley and Winslet, the cast also includes Jai Courtney, playing Dauntless leader Eric, Zoe Kravitz' as Tris' friend Christina, Maggie Q as tattoo artist Tori, Ansel Elgort as Tris' brother Caleb and Theo James, playing male lead and Tris' trainer, Four.
Confirmation of Winslet's casting comes exactly one year from Divergent's expected release, March 21, 2014.
Your Daily Blend of Entertainment News
Assistant Managing Editor
Kelly joined CinemaBlend as a freelance TV news writer in 2006 and went on to serve as the site's TV Editor before moving over to other roles on the site. At present, she's an Assistant Managing Editor who spends much of her time brainstorming and editing feature content on the site.