Kung Fu Panda 3 Might Not Be Doomed, After All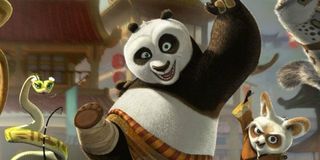 Yes, folks. We're still getting Kung Fu Panda 3. We haven't heard much about the third installment of the DreamWorks Animation feature, which has been in the works since 2012. But it has recently made a move that both confirms it's still on track for release in 2016 and will be made available to a larger international audience.
As reported by The Hollywood Reporter, DreamWorks Animation has received co-production status in China for Kung Fu Panda 3. It was recently revealed that the studio was in a bit of a snag, as the films have lost a significant amount of money over the years. As such, they underwent a major reconstruction, which resulted in layoffs and a smaller release slate. It definitely didn't bode well for the third installment of Po's story. However, this new move is a major one for both the studio and China.
It gives the film a much better chance of receiving a mainstream release in China (though no release date for the country has been set as of yet), a larger share of the revenue and immunity from any blackout periods. It also allows the filmmakers who receive this status to treat their works as domestic films, which means they don't have to be included as part of China's import quota, which limits the number of films the can be produced in the country and sold elsewhere.
This news comes shortly after DreamWorks pushed the release of Kung Fu Panda 3 from is 2015 release slot to March 28, 2016, in order to avoid direct competition with Star Wars: Episode 7. Chris Aronson, Fox President of Domestic Distribution, released a statement to Deadline last month, reiterating how important the Kung Fu Panda property is to DreamWorks. As he wrote, the move was to better position it to reach a broader audience. While the new spring slot does that, it's also not the first film to succumb to the pressures brought on by facing down Star Wars at the box office. The Warcraft was another that moved its December 2015 release into the following year.
Jack Black, Angelina Jolie, Dustin Hoffman, Seth Rogen, Lucy Liu and other members of the original will be back for Kung Fu Panda 3. Not too much is known about the plot, however, and the details we do have are vague at best. We know it will continue the adventures of Po, and this time he'll have to face two different threats, one of which is supernatural while the other is close to home. According to the film's executive producer Guillermo del Toro, who spoke with Collider, the villain will be "possibly the most formidable villain in the series." The cast features the likes of Bryan Cranston, Rebel Wilson and Mads Mikkelsen, and it's rumored that the Breaking Bad star will take over the villainous role.
Your Daily Blend of Entertainment News
Thank you for signing up to CinemaBlend. You will receive a verification email shortly.
There was a problem. Please refresh the page and try again.