Will Mean Girls 2 Happen? Here's What The Stars Say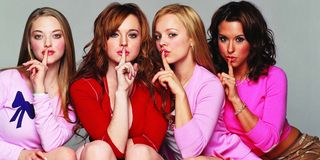 Ooof, how long has this Mean Girls reunion been coming? I feel like it was almost a lifetime ago when Lindsay Lohan "accidentally" tweeted (and deleted) a selfie of herself and Tina Fey together, prompting wild rumors of a possible Mean Girls sequel. (I, like many, refuse to acknowledge the existence of the straight-to-video Mean Girls 2.)
LiLo's social media stunt only ended up being part of an Entertainment Weekly special reunion issue, but all may not be lost, fellow Plastics sympathisers. In that very EW mag article, Tina Fey, Lindsay Lohan, Rachel McAdams, Amanda Seyfried and that brunette nobody remembers all talk about a Mean Girls part deux. It's an interesting conversation between the former stars, but it's critical to note that Fey absolutely, in no way now or ever wants to do a sequel.
This woman gets that there's value to leaving a priceless treasure as it is and not doing projects purely for the money. Mean Girls is so fabulous and fetch, but few comedy sequels are funnier than the originals. Side eye to any potential Step Brothers 2 revivals.
That said, not everyone agrees with Fey or the devoted fans of the cult classics. Lindsay Lohan thinks that Mean Girls 2 is simply a swell idea.
Of course she wants to do it! Mean Girls was Lilo's last decent part and she'll do anything to ride that Cady Heron fame 'coaster again. What would the follow-up plot even entail? Cady falls into the Burn Out crew, but eventually discovers harder narcotics that give her a better high? Cady and Aaron Samuels, drunk under the influence, hit a pedestrian while driving Regina's Mercedes? Cady steals a necklace from the mall?
Lacey Chabert (that's Gretchen Weiner to you) points out that a sequel would only ever work if EVERYONE from the original was involved, which is a tall order considering the success so many of the cast mates have recently achieved. Lohan's schedule might be wiiiiiiiide open, but Lizzy Caplan is busy playing doctors with Michael Sheen in Masters of Sex, while Rachel McAdams and Amanda Seyfried are now blonde, high-demand actresses in their own right. Maybe you can even rank the women's interest in a sequel by their success, but we sure as heel know that Mean Girls ended exactly as it should have.
Your Daily Blend of Entertainment News
Thank you for signing up to CinemaBlend. You will receive a verification email shortly.
There was a problem. Please refresh the page and try again.