Megan Mullally Says Party Down Movie Could Shoot Next Year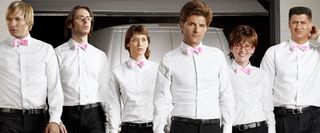 Few sitcoms in recent years have been as absurd and satisfying as Starz's short-lived Party Down. Centering on a motley crew of caterers who all dream of bigger things—be it cinematic stardom or their own soup-selling franchise—the blisteringly hilarious series brought together an eclectic comic cast that included Adam Scott, Ken Marino, Ryan Hansen, Martin Star, Lizzy Caplan, Jane Lynch, and Megan Mullally, which clicked perfectly and offered a unique and sharp sense of humor. So, it's little wonder that the cast has been plagued with questions about a possible reunion movie ever since the series' cancellation.
So far Marino, Caplan and Mullally have made mention of an unfinished screenplay for a Party Down movie, giving fans hope—especially in light of Arrested Development's recent resurrection. Now The Film Stage reports Mullally revealed an update on the latest episode of Scott Aukerman's Comedy Bang Bang podcast that if the script is approved, the film should have its financing secured. After that, it's a question of when the far-flung cast can sync their schedules.
However, this could prove tricky. Scott is now a series regular on Parks and Recreation. Marino and Mullally star on the Adult Swim series Children's Hospital; Lynch has Glee, and Caplan has a burgeoning film career with movies like Save the Date, Bachelorette, and 3, 2, 1... Frankie Go Boom on the horizon as well as a lead role in Showtime's latest sultry series Masters of Sex. Still, Mullally claims they're looking to regroup and shoot in the spring or summer of 2013 when most are expected to be on production hiatus. So, fans, remember Henry's plagiarized pep talk to Ron: "Don't stop believing."
Your Daily Blend of Entertainment News
Staff writer at CinemaBlend.