Minnie Driver Launching A Comeback In Indie Drama Return To Zero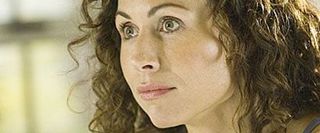 In the late '90s, English ingénue Minnie Driver was everywhere. After her breakout role in the charming romantic drama Circle of Friends, she tackled comedy with John Cusack in Grosse Pointe Blank. She won an Oscar nod for her heartbreaking turn opposite Matt Damon in Good Will Hunting, and she lent her voice to the plucky Jane in Disney's animated Tarzan. But in the 2000s, Driver largely took to television, offering memorable roles in sitcoms like Will & Grace and drama series like The Riches.
But 2013 seems to mark a return to film for Driver, as she's recently wrapped on the horror musical Stage Fright and the promising looking rom-com I Give It a Year. And that's not all. THR has discovered Driver will headline a new indie drama called Return to Zero, which roll into production in Los Angeles this week. And from the sound of it, this feature could bring Driver back into the spotlight.
Inspired by a true story, the film, which marks the directorial debut of its screenwriter Sean Hanish, will focus on a marriage in crisis. Driver will star as a woman whose connection with her husband was tested when her last pregnancy ended in a miscarriage. Once she discovers she is expecting again—the result of a "save the marriage encounter"—she confides in a doctor, who helps her cope with this incredibly stressful pregnancy. Paul Adelstein from TV's Private Practice and Alfred Molina will play her husband and doctor respectively. Kathy Baker (Big Miracle), Andrea Anders (Better Off Ted) and Sarah Jones (Vegas) will co-star; their roles are currently unknown.
Staff writer at CinemaBlend.
Your Daily Blend of Entertainment News
Thank you for signing up to CinemaBlend. You will receive a verification email shortly.
There was a problem. Please refresh the page and try again.