Mosasaurus Takes A Huge Bite In New Jurassic World Photo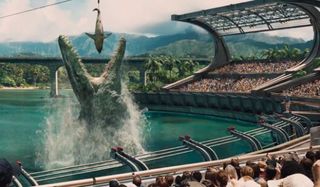 With the new Jurassic World trailer just a couple days away, director Colin Trevorrow has been teasing fans with fun new posters in anticipation, and today the director showed us just what it means for a Mosasaurus to snack. Take a look:
This isn't the first time we've seen a mighty Mosasaurus feed. Back when the original trailer released, we were treated to an action shot of the diving dino as he shot into the air to grab his great white snack. This still is a whole lot more terrifying though, as you can see that the gigantic aquatic dino is contained behind a piece of glass, as a young boy looks up at the scene. As the light bleeds through the water above, it shines on the monster as he is about to swallow the decently-sized shark whole. The lighting and color resonate a sense of impending doom, but the comfort of the little boy looking up with his hand on the glass is even more frightening.
Yesterday, Trevorrow teased on Twitter that there would three posters leading up to the new trailer premiere on Monday, and seeing yesterday's there seems to be a theme going on—people seem a little too comfortable around these enormous creatures.
And that comfort is not going to protect them.
We're curious to see what photo Trevorrow decides to tease tomorrow. Could it be a glimpse at a dino breaking free from their encaging? It seems that the most important similarity between the two photos above is that humans are only separated from these monsters by a piece of glass. How strong can that glass really be? And how long until these dinos get fed up with being a spectacle?
We know that things will go awry at the park, because this is a Jurassic Park movie, so of course, but so far we've been more afraid of the laboratory-made dino-hybrid known as Indominous. We'd be naive to think he's the only dino who wants to take revenge on those who've tried to contain them though.
It'll be up to Chris Pratt to clean up the mess that this park has created, and from a quick glimpse in the first trailer, he looks to do so with a raptor army helping him out.
Chris Pratt will be joined with co-star Bryce Dallas Howard as well as Ty Simkins, Vincent D'Onofrio, Nick Robinson, Irrfan Khan, Jake Johnson, Omar Sy, BD Wong, and Judy Greer in Jurassic World as it hits theaters June 12, 2015.
Your Daily Blend of Entertainment News
Your Daily Blend of Entertainment News
Thank you for signing up to CinemaBlend. You will receive a verification email shortly.
There was a problem. Please refresh the page and try again.