Motion Poster For Haunting In Connecticut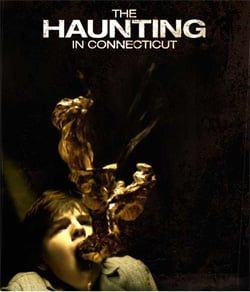 I love the idea behind the new "motion posters." I still haven't seen one at work, other than embedded on a webpage, but I can imagine movie theaters with high definition screens where movie posters used to be displaying these. It's a very cool concept that Terminator Salvation utilized really well.
The latest motion poster, for the horror picture The Haunting in Connecticut doesn't pull off the idea quite as well. The sound is a little too much, and is jarring when the poster resets. I liked the kid freaking out in the lower half, until he started to spew whatever that is - smoke, a demonic presence, whatever. While it certainly works better than the static version of the picture (see right), this just isn't the kind of thing I'd care to see on my theater's wall. The idea is sound, just not well executed here.
Check out an embedded version of the poster below, courtesy of Yahoo! Movies.
Your Daily Blend of Entertainment News