Nicole Kidman Is The Silent Wife In Blockbuster Book Adaptation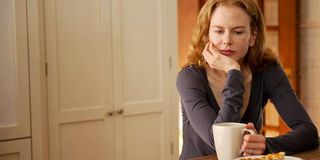 Nicole Kidman's would-be Oscar bait from this year may not be panning out, and her most recent film isn't winning a lot of love, but she remains an A-list star and is about to hitch her wagon to an even bigger sensation. Deadline reports that Kidman has agreed to star in an adaptation of The Silent Wife, the bestseller by A.S.A. Harrison published earlier this summer.
The sheer number of comparisons to Gone Girl on the book's Amazon page ought to tell you both why the book was a hit and why it's getting its own movie adaptation. Much like the book that's soon to be a David Fincher film, The Silent Wife is told from the point of view of both the husband and wife, who like the protagonists of Gone Girl are also trapped in a loveless marriage. Here's the very vague description of the plot from Amazon:
Kidman is starring in the film and producing through her Blossom Films label, which made Rabbit Hole and landed Kidman her most recent Oscar nomination. There's no studio attached to The Silent Wife, but as the team looks for a male co-star for Kidman-- and likely an equally high-profile one-- that might change. In the book marketplace, where titles can take their time to find audiences and a reader can go through 10 of them in a single beach trip, there's always room for many very similar titles-- it's what kept Tom Clancy in business all those years. But can the movie marketplace really handle both Gone Girl and this incredibly similar title? Even the Harry Potter knockoffs like Percy Jackson or The Seeker couldn't handle the comparison, and they had giant built-in kid audiences. Gone Girl is definitely the mega-blockbuster competition that The Silent Wife will be fighting against, and we'll see what kind of co-star Kidman can dig up before judging whether or not it'll be a real competition.
Image 1 of 2
Image 2 of 2
Staff Writer at CinemaBlend
Your Daily Blend of Entertainment News
Thank you for signing up to CinemaBlend. You will receive a verification email shortly.
There was a problem. Please refresh the page and try again.