Olympian Johnny Weir Cites The Hunger Games As Fashion Inspiration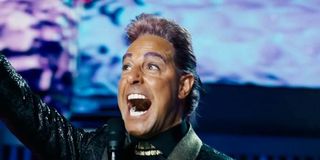 With a fabulous and flashy string of dazzling outfits, Johnny Weir has proved a breakout star of the 2014 Winter Olympics without even being in competition. The former Olympian has turned commentator for NBC at the Sochi games, and the openly gay figure skater hasn't toned down his signature style one bit, despite Russia's grim anti-gay policies. Instead, Weir has upped his game as a fashion-forward icon, and he's pulling his inspiration from The Hunger Games.
In an interview with Philly Mag (via Vanity Fair), Weir spoke about his flare for fashion specifically. Asked if NBC was at all inclined to damper his natural showiness, he said, "They've understood that I'm clever, I'm very flamboyant, I have a crazy dress sense." Asked what he had in store for the cameras at Sochi, he offered:
Okay, so it's kind of funny that Weir is pulling his Olympic fashion from a movie about a national competition that essentially cannibalizes its citizens. But beyond that, of course Weir found inspiration in the panache and showmanship of Tucci's Caesar Flickerman!
The Capitol's long-time Master of Ceremonies for The Hunger Games has a sense of style so fun and mesmerizing, that it can even distract movie audiences from the carnage of these cruel games. (Click here for more on Caesar's importance as a character.) Naturally his level of Capitol couture would translate well to Weir's commentator duties, especially for figure skating, where pageantry is a crucial part of the sport. But enough about that. Let's compare looks!
Thanks to Weir's Instagram updates, you can definitely see Caesar's influence, from the pompadour to the shimmering blazer, and the demand to sparkle. Though, I do wish Weir would dare to flash a smile as wide and bright as Caesar's signature grin.
Is it too late for director Francis Lawrence to wedge in a cameo of Weir in Mockingjay - Part 1 or 2? He was born to be dolled up in the crazy and luxurious fashions of the Capitol!
Your Daily Blend of Entertainment News
Staff writer at CinemaBlend.