Prom Poster: High School Is Like A Collage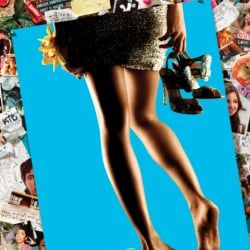 I'm not going to hide it anymore-- I'm genuinely interested in seeing Disney's Prom, and will happily look forward to it as a bit of bubblegum fun that's hopefully a little closer to what actual high school life is like than High School Musical (maybe hitting a little closer to the Mean Girls side of the spectrum? Maybe?) Yes, I know it's foolish to get my hopes up about a movie that's aimed toward tweens, but I saw 17 Again and enjoyed it, so clearly I'm digging my own grave here.
Anyway, Disney has now released a poster for Prom to go along with the trailer that hit a month ago, and you can see the poster below. Because the movie doesn't feature any actual stars they didn't fall victim to the "shiny floating heads" syndrome, and instead went for a somewhat creative collage format that sets up the whole high school prom vibe without getting into too much superfluous detail. I had a bulletin board in high school not unlike the one in this poster, and therefore my nostalgia-leaning brain says "OK!" Prom hits theaters-- when else?-- in the height of prom season on April 29. We've got a larger version of the poster and stills from the film over at our Blend Film Database.
Your Daily Blend of Entertainment News
Staff Writer at CinemaBlend