Rachel McAdams Time-Travel Rom-Com Pushed To November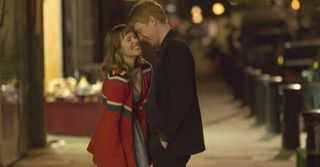 Rachel McAdams didn't fare all that well the first time she starred in a romance opposite a man who could time travel, when The Time Traveler's Wife failed to be nearly as big a hit as the book it was based on. But she's giving it another shot anyway, starring opposite Anna Karenina standout Domnhall Gleeson in About Time, which has a pretty strong pedigree thanks to director Richard Curtis, of Love Actually and Four Weddings and a Funeral.
The movie had been scheduled for some summer movie counter programming, opening May 10 opposite The Great Gatsby and a week after Iron Man 3. Now, according to The Wrap, Universal has pushed the film back to November 1, where it will open in limited release against Ender's Game and go wide a week later opposite Thor: The Dark World. It seems clear the threat here was Gatsby, a lavish period film from Baz Luhrmann bound to draw in the same female-heavy audience that About Time was aiming for. The fall may wind up being just as crowded-- who knows what kind of festival hit might also emerge in early November-- but with Universal claiming November is "the perfect season for the film," I guess we have to believe them for now.
As a longtime sucker for both rom-coms and Rachel McAdams I'm holding out some fierce hope for About Time, in which Gleeson plays a man who can travel back in time to relive his meeting with his dream girl (McAdams) over and over again. If you caught Anna Karenina you know Gleeson can play a lovestruck man with the best of them, and nearly a decade after Wedding Crashers, McAdams is still a consistently adorable and surprising love interest-- and leading lady, when given the chance. I'm keeping this one marked on my calendar, even if it might require pretending The Time Traveler's Wife never existed.
Staff Writer at CinemaBlend
Your Daily Blend of Entertainment News
Thank you for signing up to CinemaBlend. You will receive a verification email shortly.
There was a problem. Please refresh the page and try again.