Read Michael Bay's Touching Tribute To Michael Clarke Duncan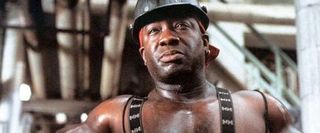 The world lost one of its most charismatic character actors Monday, when Michael Clarke Duncan, the 6-foot-five-inch, 300 pound Oscar-nominee best-known for his heart wrenching turn in The Green Mile, passed away. Fans who have long enjoyed Duncan's unique blend of tough guy bravado and teddy bear charm have taken to the web in remembrance, while those who had the pleasure to work with him have spoken out, like recurring co-star Bruce Willis who said, "Michael Duncan was a great actor, a great human being, and he was my very dear friend. I will miss Big Mike in a Big Way."
But THR has pointed out one of the most touching tributes out of Hollywood has come from an unlikely source: explosion-loving action auteur Michael Bay, who gave the brawny actor his breakthrough role in the 1998 sci-fi epic Armageddon. As Bay is wont to do, he took to his own website to share his thoughts. First, he recalled how Duncan, who had at this point snagged some roles in film and television most often as a nameless bouncer, was spotted at a gym, and how he wept for joy at the opportunity to audition for Armageddon. Bay notes he'd won the role of the burly Bear before he left the room.
However, surrounded by big stars and huge expectations, Bay recounts, Duncan struggled on set the first day, but rather than recasting the role, Bay advised him to be "the sweet, Mr Clarke Duncan I met in that room," assuring, "the audience is going to fall in love with you".
Of course, Bay was right. After his first day jitters, Duncan went on to perform admirably amid the star-stuffed cast, as Bay recalls,
The following year, Duncan stunned and stirred audiences with The Green Mile, which put him in an Oscar race against such seasoned actors as Tom Cruise (Magnolia) and Michael Caine, who won for The Cider House Rules. From there Duncan became a welcomed presence in various action-adventures, but also displayed an impeccable comedic talent in funny features like The Whole Nine Yards and Talladega Nights: The Ballad of Ricky Bobby. It was a joy for all of us—Bay included—to watch this dynamic and gigantic performer grow as an actor, something Bay captures nicely in his final paragraph about the production of Armageddon:
E! states the coroner's report confirms Duncan died of natural causes, likely stemming from the lingering impact of a severe heart attack he suffered a few weeks back. He was 54-years-old.
Staff writer at CinemaBlend.
Your Daily Blend of Entertainment News
Thank you for signing up to CinemaBlend. You will receive a verification email shortly.
There was a problem. Please refresh the page and try again.