Rush Hour And Face Off Come Together In Ridiculous Spoof Starring P. Diddy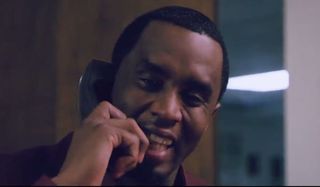 Have you ever imagined a mishmash of Rush Hour and Face/Off that is held together by the cinematic glue that is P. Diddy? I'm going to guess no. But that hasn't stopped the good people over at Funny Or Die from creating a film that combines that devilish trifecta. And it makes for one of the most confusing fake trailers of all time.
P. Diddy and Byung-Hun Lee are right: why exactly do they need to change faces? Ah, well – even though it's preposterous, contrived and doesn't make a jot of sense, I for one would still pay good money to see Rush Hour 4: Face/Off 2, but only if it was more of the latter than the former.
The filmmakers behind this Funny Or Die video do an good job with this, and it's enjoyable that it can be seen as riffing on the recent rumors that the Jump Street and Men In Black franchises could be merging. Rush Hour 4/Face/Off 2 has a good number of one-liners and sight gags in there – especially the confusion over exactly why their faces need to be taken off and the doctors watching Face/Off before surgery - which make it worth your while. It is slightly unfortunate that it descends into slew of stereotypical racial jokes though, but I guess that's just the Rush Hour franchise.. Meanwhile there's also no denying the fact that it's also really, really odd. And you really can't help but be a little bit flabbergasted by what you've seen by its conclusion. Still there are worse ways to spend three minutes of your day.
For the uninitiated, 1998's Rush Hour starred Chris Tucker and Jackie Chan as Detective James Carter and Detective Inspector Lee respectively, and it blended the marital-arts of Chan's exploits in Eastern movies with Tucker's fast-talking gags from his American comedies. Meanwhile, Face/Off is John Woo at his twisted and relentless best, and the film is punctuated with fine performances from its dual leads of John Travolta and Nicholas Cage. Released in 1997, it was instantly met with praise because of its hype-violent but poetically stylized action scenes and its intriguing premise. It's even since developed into a cult classic because of just how beautifully high concept it is.
But should the two movies ever be combined into one super franchise blockbuster that stars none of the original actors and simply plays up the themes from the two series? As entertaining as this Funny or Die video is, I think we can agree that it would be a pretty nonsensical idea.
Your Daily Blend of Entertainment News
Thank you for signing up to CinemaBlend. You will receive a verification email shortly.
There was a problem. Please refresh the page and try again.