Shallow Hal Star Joshua Shintani Dead At 32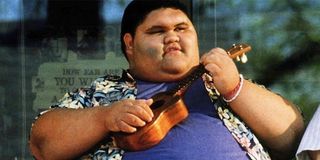 Though he only ever appeared in a single movie, Joshua Shintani left a big impression on many viewers. Best known for a small role in the Farrelly Brothers' 2001 comedy Shallow Hal, we've got some bad news, as Shintani passed away last week at the tragically young age of 32.
Joshua's mother confirmed to TMZ that she took her son to the emergency room on Kauai, Hawaii early in the week, only for doctors to find that he was already suffering an advanced case of pneumonia. After being admitted, the young man died shortly after on Wednesday.
Shintani may only have had one part in his entire movie career, but it certainly left a mark. He plays a Hawaiian man sitting on a bench outside of the Peace Corps office strumming a ukulele, playing a version of the song "Never Forget Where I'm From," as Jason Alexander and Jack Black's characters arrive on the scene and sit next to him.
Much like his small part in the movie, Shintani was discovered in a very similar fashion. Peter Farrelly was reportedly on vacation in Hawaii, when he encountered Joshua, who was then a senior at Waimea High School, sitting on a bench outside of a local library, strumming away on his ukulele. Like a classic Hollywood story, the filmmaker was driving by, saw Shintani, stopped, and asked him if he wanted to be in a movie. Shortly after, he was flown to Los Angeles for a screen test and given the part almost immediately. After appearing in the movie, Joshua, who also went by the nickname "Li'iboy," became something of a local legend and developed a cult following.
For those of you who are unfamiliar with the film in question, Shallow Hal stars Jack Black as Hal Larson, a man who is notoriously superficial when it comes to judging people based solely on their looks. After a twist of fate leaves him stranded in an elevator with celebrity life coach Tony Robbins, he is hypnotized into seeing people's inner beauty, not just how they appear on the outside. So when he meets Rosemary (Gwyneth Paltrow), who is morbidly obese, he only sees her as skinny and beautiful because of how good a person she is on the inside. The humor in the movie is widely regarded as tamer than the usual Farrelly Brothers fare, and many noted that it is much more emotional and much sweeter than their usual style as well.
Your Daily Blend of Entertainment News
Thank you for signing up to CinemaBlend. You will receive a verification email shortly.
There was a problem. Please refresh the page and try again.