Mark Wahlberg And Ted Lay Down The Law In Hilarious Ted 2 Clip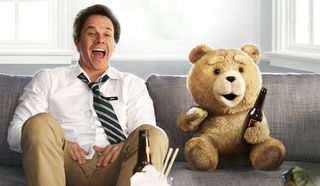 Seth MacFarlane's Ted was a surprise hit in 2012, but made so much money that a sequel was in evitable. Ted 2 opens later this summer, and on the eve of the MTV Movie Awards, they've got hilarious new snippet to check out. The short clip starts at about the one-minute mark, and just a heads up, you'll have to sit through a Mountain Dew commercial and some golf hijinks to get there.
From the look of this clip, Ted 2 offers up a similar quick, smart ass style of humor as the first film. This footage shows Mark Wahlberg's John Bennett and his best-friend-since-childhood, the anthropomorphic teddy bear, Ted (voice by MacFarlane), preparing for an upcoming legal case. As you can tell, they have an intimate grasp on the intricacies of the American legal system. Or at least they've got really stoned and watched a great many Law & Order marathons.
You also get a brief introduction to Amanda Seyfried's character. She plays their lawyer, Samantha Jackson, and now that Mila Kunis is gone, you have to imagine that Seyfried will be stepping in as the love interest for John this time out. She'll be resistant to his charms initially, but she'll come around by the end, you just know it.
In Ted 2, Ted and Tami-Lynn (Jessica Barth), his new bride, want to have a baby, but when you're a walking talking toy, there are apparently some legal questions to contend with. In order to qualify to be a parent, Ted has to prove that he is in fact a person in a court of law. Sounds a little bit like Miracle on 34th Street, but, you know, with exponentially more bathroom humor.
This set up also does something that the first movie didn't. Part of what makes Ted so much fun is that no one really questions that there's a living teddy bear. He walks around, drives a car, has a job, and obviously courts romantic partners, and no one says boo. In the sequel, however, it appears that people are starting to question his standing. The films are really about not letting go, clinging to childhood, and John is certainly somewhat emotionally stunted, so you have to wonder, is it going to turn out that Ted is really some kind of psychological construct after all? Or will Ted 2 decree once and for all that he is a real live bear? Given that there are already rumblings about Ted 3, my guess is that he's probably going to stick around.
Ted 2 hits theaters June 26, and, as usual for a Seth MacFarlane movie, has a ton of cameos lined up, including, but not limited to, Liam Neeson, Morgan Freeman, Michael Dorn, and you can bet tons of others.
Your Daily Blend of Entertainment News