Thomas Mann In Talks To Be King Dork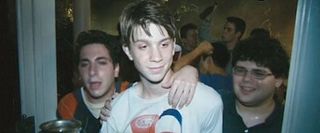 Days before Gary Sanchez Productions unleashed Casa de mi Padre upon the world, the production company founded by Will Ferrell and Adam McKay announced that the film's director Matt Piedmont would be reteaming with GSP for their long in-development effort King Dork. Based on the quirky YA novel by The Mr. T Experience frontman Frank Portman (A.K.A. Dr Frank), the property was the first that GSP acquired back in 2006. Since then, screenwriter D.V. DeVincentis (Lay the Favorite, High Fidelity) has adapted the book into a comedic coming-of-age tale, and now with their director lined up, GSP has finally begun casting.
Variety reveals that Project X's Thomas Mann has entered into final negotiations to play the film's title character, while his It's Kind of a Funny Story co-star Keir Gilchrist is being considered to play his onscreen confidante. Additionally, Nick Offerman (Parks and Recreation, Casa de mi Padre) may commit to play King Dork's stepdad. Of course, with Offerman's incredible comedic talents he'd be an ideal addition to any funny feature, but fans of the book will be most scrutinizing about Mann and Gilchrist. Are they good fits for the roles of the book's central figures Tom "King Dork" Henderson and his best friend and bandmate Sam Hellerman?
Set in 1987, the story of King Dork centers on Tom's sophomore year in high school, where he not only copes with bullies and the pressure from authority figures, but also aims to make sense of his father's unexpected death and track down the mystery girl he fooled around with at a fateful party. Sam is Tom's partner in crime. Both are considered painfully uncool by their classmates, and they bond over their outsider status and dreams of rock stardom…if only they could settle on the perfect band name.
It's an earnest yet humorous portrait of adolescence that has earned Portman ardent fans, including Ferrell and McKay. Thankfully, their casting choices thus far suggest they're not looking to transform this quirky story into some glossy pop comedy. Beyond looking the part of the awkward, picked on outsider, Gilchrist and Mann bring some enticing heat to King Dork, the former with his proven comedic savvy on United States of Tara, and the latter with the box office success of the low-budget Project X. All in all, it sounds like a solid foundation for another challenging GSP comedy. But for now, I'm left to ponder: who will play Tom's mysterious dream girl? We should find out in short order as King Dork's looking to shoot in June.
Check out Portman's theme for King Dork below, as featured on The Mr. T Experience…and the Women Who Love Them:
Your Daily Blend of Entertainment News
Staff writer at CinemaBlend.