Thor: The Dark World Reaction: 10 Things To Look For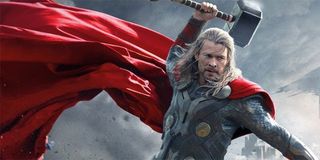 On the London Underground there are posters like the one above, featuring the God of Thunder against the city skyline and promising "An Avenger is coming to town." There's definite excitement to see the city blown up so often this year go a few rounds with Thor's hammer, and it was a blast and a privilege to see Thor: The Dark World in London last week, just before conducting interviews with the entire cast and crew.
Because Disney paid my way to London I won't be reviewing the film-- we've gotta draw a line somewhere-- but now that the embargo has lifted, I wanted to share a few highlights that are worth looking forward to, beyond what's been featured in the many clips and trailers we've seen so far. You may think you've seen it all already, but Game of Thrones veteran Alan Taylor is bringing a lot to the table. Check back in a few days for our formal review, but in the meantime, here are some spoiler-free bullet points to keep an eye out for.
1. Asgard has gotten a major expansion. The filmmakers have promised all along that we'd get to see much more of Asgard and its Nine Realms, and while the inter-planetary hopping and battle scenes are fun, it's the details in Thor's hometown of Asgard that make a huge difference. From a brief scene inside a raucous, medieval-style pub to a moving scene that highlights the massive waterfall in the city center, Asgard feels like much more of a real place (the increased budget for the sequel couldn't have hurt).
2. Chris Hemsworth's hair extensions have too. No, this won't be the biggest thing you'll look for in The Dark World, but director Taylor has said that fixing Thor's hair was a major priority, and he's definitely got better-looking flowing locks this time. It's the details that count!
3. Thor and Loki are better together than ever. If that scene of Thor and Loki briefly fighting on the cliff in The Avengers had you wishing for more brother-on-brother drama, Thor: The Dark World has what you're looking for. Everyone at Marvel seems to understand what an asset Tom Hiddleston is as Loki, even shooting extra scenes to feature him, and the many scenes of the brothers arguing, scheming and going through some heavy-duty emotions are worth the effort. It's not just that Hiddleston is a scene-stealer-- Hemsworth makes him better in their scenes too, especially with no other Avengers to get in the way.
4. The movie is funnier than you might think. Sure, it's called "The Dark World" but Marvel clearly remembers how the unexpected laughs in the original Thor helped the film, and they include lots of them here. Inevitably, Loki gets most of the good lines. But he's also got some competition… 5. Kat Dennings and Chris O'Dowd are very, very funny. You remember Dennings being funny in the first Thor as Darcy, and with an expanded role she definitely doesn't overstay her welcome here. And O'Dowd has been wonderful in Bridesmaids and The IT Crowd, so his credentials are well-established. You don't even have to listen to me though-- check out this scene:
6. The women are stepping up to the plate this time. And not just Natalie Portman's Jane Foster, who we've seen slapping Chris Hemsworth around in clips. Jaimie Alexander's Sif figures majorly into the film's first big battle scene, bailing Thor out as much as he helps her, and there's an expanded role for Rene Russo as Frigga, the mother of Thor and Loki who is up to the challenge of defending Asgard when it comes under attack from The Dark Elves, led by Malekith (Christopher Eccleston).
7. The Dark Elves… they sure are dark. And a little anonymous. I'll let the jury remain out on Eccleston and his band of menacing space-elves, since like I said, this isn't a review. But if you're looking an iconic villain performance to rival Ben Kingsley or Guy Pearce from Iron Man 3 earlier this year, you may be disappointed.
8. The action is bigger, and very successful. Taylor's experience on Game of Thrones made scenes like the early Lord of the Rings-esque battle inevitable, but he does well with a later attack on Asgard, as well as the grand finale set in downtown London, which includes some incredibly inventive ideas I wouldn't dare spoil here. If your major problem with the original Thor was the small-stakes and spare sets of the final battle scene, you'll appreciate the major upgrade here.
9. The 3D is totally skippable. But you probably knew that based on all of the other Marvel films, which feature adequate but never especially impressive 3D effects. We'll have more on that for you in our To 3D Or Not To 3D review closer to release.
10. Stay all the way through the end credits. This is another trick that every Marvel fan knows by now, but if you were disappointed by the throwaway scene at the very end of Iron Man 3, you ought to be happy here-- the first mid-credit scene is the best one since Nick Fury showed up at the end of Iron Man, and the second is worth the wait too.
Let us know when you plan to see Thor: The Dark World in the comments, and check back later for our full review!
Staff Writer at CinemaBlend
Your Daily Blend of Entertainment News
Thank you for signing up to CinemaBlend. You will receive a verification email shortly.
There was a problem. Please refresh the page and try again.