Toby Jones, John Hurt And Stephen Graham Join The Packed Tinker, Tailor, Soldier, Spy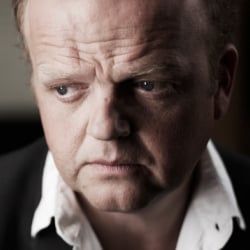 So many actors have been added by now to the cast of Tomas Alfredson's Tinker, Tailor, Soldier, Spy, that it's hard to keep track of which distinguished British male actor is already on board and which you just imagined being cast. Gary Oldman, Benedict Cumberbatch, Colin Firth, Tom Hardy, Ciaran Hinds and Mark Strong has ben long confirmed for the film, which began shooting several weeks ago, and now a few more names have been added to the list thanks to The Daily Mail.
Most notably, Toby Jones has stepped into the cast to replace Jared Harris, who understandably had to bail in order to take the role as Moriarty in Sherlock Holmes 2. Also newly on board is Kathy Burke, playing a former Soviet expert brought in by Gary Oldman's character, the spy George Smiley, to help him flush a Russian mole out of MI 6. John Hurt has also signed on to play the chief of the spy organization, and Stephen Graham-- doing great work right now as Al Capone on Boardwalk Empire, and soon to be seen in Pirates of the Caribbean 4-- has also signed on.
Tinker, Tailor, Soldier, Spy is starting to rival the Harry Potter franchise for sheer number of British actors employed, but that will just make it all the more fun to watch when the movie finally hits theaters-- which, presumably, will be sometime next year.
Staff Writer at CinemaBlend
Your Daily Blend of Entertainment News
Thank you for signing up to CinemaBlend. You will receive a verification email shortly.
There was a problem. Please refresh the page and try again.