Tribeca Interview: Angels Crest's Jeremy Piven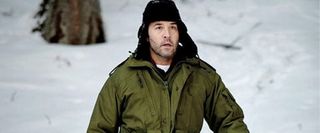 Hopefully you're ready to see Jeremy Piven's serious side because in one of his latest films, Angels Crest, Piven really turns on the drama tackling some rather troubling subject matter. The film stars Thomas Dekker as Ethan, a young father who opts to leave his sleeping three-year-old son in the car alone for a matter of minutes. When Ethan returns, his little boy is gone and soon found dead in the snow. Piven steps in as a local district attorney with zero sympathy for Ethan's grief, looking to prosecute him for his negligence.
Piven says it himself; this character is about as far from Entourage's Ari Gold as he can get. He's soft spoken, unkempt and evidently being eaten away by his troubled past. However, oddly enough, Piven was "thrilled to play him." Then again, it's easy to see why Piven was elated to be part of the project. Angels Crest packs a powerful cast including Dekker, Mira Sorvino, Kate Walsh, Lynn Collins and Elizabeth McGovern as well as a talented director, Gaby Dellal.
In honor of Angels Crest's world premiere at the Tribeca Film Festival, Piven sat down to tell us all about his experience making this film, what he's working on next and a little bit about his toughest critic, his six-year-old niece, Pearl.
Your Daily Blend of Entertainment News
Staff Writer for CinemaBlend.
Your Daily Blend of Entertainment News
Thank you for signing up to CinemaBlend. You will receive a verification email shortly.
There was a problem. Please refresh the page and try again.