True Grit's Hailee Steinfeld Could Be The New Carrie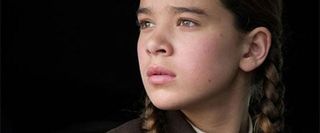 Hailee Steinfeld was widely praised for her work as Mattie Ross in True Grit last year. Normally that kind of acclaim results in having your name attached to every age-appropriate project circulating in Hollywood, but somehow that hasn't happened for Hailee. She's doing a Romeo & Juliet movie, but that's been it. Until now, when we're hearing that she may star in the impending remake of Stephen King's Carrie.
The remake is in development right now, with a script being written by the guy who wrote a comic book adaptation of King's The Stand. Megan Fox has been lobbying to play Carrie, but let's face it, no one actually believes she'll get it, or if she did that she'd be any good at it. Hailee Steinfeld on the other hand, would be perfect.
Word of her potential involvement comes from one of our most proven sources. We hear that Carrie's producers are eyeing Hailee Steinfeld as a top candidate for the part of the tormented high school girl played by Sissy Spacek in the original. That doesn't mean, of course, that Hailee has it… or even wants it. The script is still being written and they won't make any decisions until it's done, nor are the film's producers likely to confirm which direction they're leaning. For now just consider Hailee as a possibility, a really good kind of possibility. Hire Steinfeld as Carrie and we'll all have a good reason to get interested in this remake.
Your Daily Blend of Entertainment News
Thank you for signing up to CinemaBlend. You will receive a verification email shortly.
There was a problem. Please refresh the page and try again.