UPDATED: Mickey Rourke May Re-Team With Walter Hill For The Storm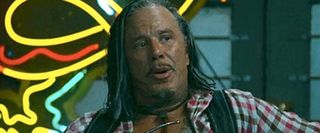 UPDATED: We have gotten word from Walter Hill's representation that the director is "not attached in any way to The Storm." The original story follows:
Though Walter Hill may be best known for his involvement in the Alien franchise, the writer-director-producer's first film love has always been Westerns. He memorably helmed the Jeff Bridges-fronted biopic Wild Bill, spun Akira Kurosawa's samurai-centered classic Yojimbo into the Prohibition-era set Western Last Man Standing, and even helmed the first episode of David Milch's groundbreaking HBO series Deadwood. Now Moviehole reports that Hill may to return to the genre he loves with contemporary thriller called The Storm.
Penned by Josh Campbell, The Storm centers on a green deputy named Boyd Clemens, who is forced to fill the shoes of Sheriff Andrew Wade when a blood-thirsty convict called Press Gibson and his criminal crew roll into their North Texas town seeking revenge for the prison sentence Wade long-ago shackled him with. Making matters worse for the untested hero is the unrelenting Texas storm season that rages above and could well play out like a dark omen.
At present, there's no mention of who may play the noble deputy that will likely face down the vengeful Press High Noon-style. But comeback kid Mickey Rourke is said to be in talks to play the vindictive villain. Should he and Hill sign on to the project, The Storm would mark their first re-teaming since the 1989 crime-thriller Johnny Handsome, which is fitting as that flick featured Rourke playing a disfigured and hardened criminal seeking revenge for a similar offense. And while it's always good to see Rourke apply his unhinged energy to a villain role, it's impossible to say if Campbell's script will entice either Rourke or Hill to the project. But while the up-and-coming screenwriter doesn't have a filmography to brag about just yet, he is well on his way to one, having inked a deal to draft the American remake of John Woo's The Killer, and selling a super secret, sci-fi spec script to Bad Robot.
Staff writer at CinemaBlend.