Underworld 3 Will Not Include Selene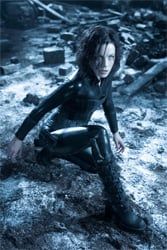 One of the biggest complaints about the pending third Underworld picture isn't that it's being made in the first place, but that the star of the first two movies isn't coming back for the third one. At a press conference for her most recent movie, Kate Beckinsale confirmed that she would not be involved with Underworld: Rise of the Lycans, even just in a cameo.
If you hear a sound of weeping, its all of the fans of the franchise who were holding out hope for a brief glimmer of Beckinsale, but according to IESB such a thing is not in the works. In fact, Beckinsale doesn't intend to return to the franchise any time in the foreseeable future.
Of course, long term reunions are in vogue right now, from John McClane's return to the screen last year to Indiana Jones's new adventure this year. Beckinsale seems to think such at thing could be possible for her as well, returning to the character at 50. No offense Kate, but I don't think fans want to see you in that leather when you're that age.
Your Daily Blend of Entertainment News
Thank you for signing up to CinemaBlend. You will receive a verification email shortly.
There was a problem. Please refresh the page and try again.