Updated: Cate Blanchett Will Be Back As Galadriel For The Hobbit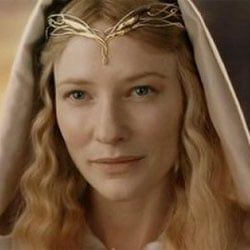 Last week we talked here about some of the challenges Peter Jackson faces in adapting Tolkien's The Hobbit into a feature film. Among those challenges I listed the lack of female characters in the story. There are quite literally, none. Not a one. Well now Peter Jackson has a solution. He's bringing back Galadriel.
Played by Cate Blanchett in the Lord of the Rings: The Fellowship of the Ring, Galadriel was the ethereal elf queen who helps Frodo and his band along their way to Mount Doom. Her character isn't actually in The Hobbit though, in fact Bilbo and his band of traveling dwarves don't even go anywhere near the region where she lives, yet New Line confirms that Blanchett has been cast in the upcoming movie anyway. How will they fit her in?
Peter Jackson confirms that she will indeed reprise the role of Galadriel, but offers no further details, so here's the worst case scenario: In The Hobbit Bilbo and the dwarves do encounter a group of elves, but the elves they encounter are in Mirkwood, a completely different Elf kingdom from the one Galadriel rules. Galadriel reigns in Lothlorien. But, it wouldn't really be much of a stretch to turn the elves of Mirkwood into the elves of Lothlorien would it? Tolkien fans (me among them) would wail and gnash their teeth, but replacing the Elven King of Mirkwood with the Elf queen of Lothlorien would be a way to work more female characters into the movie.
If however Jackson is looking for a way to include her without angering fans, I suppose she could randomly show up in Rivendell. Bilbo and his band do visit there briefly and Rivendell is the kind of place where random people do sort of just seem to show up. There has also been talk that Jackson's script may show us what Gandalf is doing, during the time in the book when he leaves Bilbo and the dwarves to go about his own business. In theory, I guess Gandalf could be hanging out with Galadriel. The Hobbit makes no mention of his specific activities at that time other than to say he bands together with Saruman and other powers to defeat a Necromancer in the far corner of Mirkwood. It would make sense for Galadriel to be there.
UPDATE! New Line has just sent out an official press release confirming the casting of other actors in the film. Ken Stott will play the Dwarf Lord Balin, Sylvester McCoy will play the wizard Radagast the Brown, Mikael Persbrandt will play the shape-shifter Beorn.
Here's the full announcement from New Line Cinema:
Your Daily Blend of Entertainment News