Vacation Friends Snags Real-Life Couple Chris Pratt And Anna Faris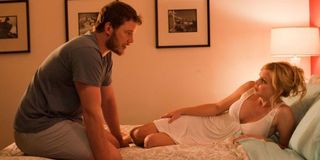 There are few celebrity couples as cute as Chris Pratt and Anna Faris, who both share a bouncy, go-for-broke comedy style. This real-life husband and wife will bring their charming chemistry to the big screen with 20th Century Fox's upcoming comedy Vacation Friends.
The Wrap reports the pair are attached to front the funny feature. Vacation Friends follows the story of a mild-mannered couple whose Mexican vacation gets some additional flavor thanks to the antics of another fun-loving couple. But when the trip is over, these kooky new friends don't the want the party to end, and become a real problem. As you might have guess, Pratt and Faris are lined up to play the fun couple. There's no word yet on who might co-star. Production is expected to begin when their respective shows, Parks and Recreation and Mom are on hiatus next.
The spec screenplay penned by brothers Tim Mullen and Tom Mullen, has been described as "in the vein of the 1991 Bill Murray comedy What About Bob? With Broken Road producer Todd Garner on board, Fox snatched up the project for a nearly $1 million deal. Hot Tub Time Machine director Steve Pink has reportedly had a hand in its development alongside Garner, but at this time he has not yet signed on to helm. He is currently in negotiations.
While Pratt and Faris have a winsome charisma and have both proven to be stupendously funny, this project has a few red flags. First off, Broken Road is a production company not know for outstanding comedy. Their past efforts include the Ice Cube vehicle Are We Done Yet?, Kevin James's Zookeeper, and Adam Sandler's Jack and Jill. Making things even more dicey is Pratt and Faris's history of collaboration so far.
First came the 1980s-set romantic comedy Take Me Home Tonight, which infamously sat on a shelf for four years before getting released. Then came the Fox flop What's Your Number?, a $20 million rom-com that took in just $14 million domestically. Last and decidedly least of their film collaborations was Movie 43, where the pair played lovers experimenting with scat play. That mess of a movie was loathed by critics and made just $8.8 million domestically. Plus it won the Razzie for Worst Picture of 2013.
Nonetheless, we like these two. And Pink could well be a helmer who would turn this all around. After all, Hot Tub Time Machine was a movie that embraced its brand of dumb humor, scoring it critical praise, box office success and a sequel. His latest, About Last Night has done even better with more positive reviews and a higher profit margin. And that was with a remake many were sneering didn't need to be made to begin with!
What I'm saying is that Pink has a real skill for making something that sounds terrible into something truly entertaining and hilarious. Here's hoping he signs on. Until then, Chris and Pratt's best onscreen collaboration will remain their guest spot on Top Chef.
Staff writer at CinemaBlend.
Your Daily Blend of Entertainment News
Thank you for signing up to CinemaBlend. You will receive a verification email shortly.
There was a problem. Please refresh the page and try again.