Vin Diesel's XXX 3 Just Lost One Of Its Major Villains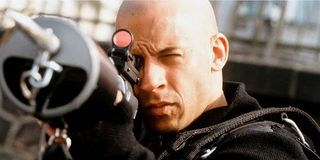 Vin Diesel has provided an update on the third instalment to the XXX franchise. Unfortunately, it's not the best of news though, as it's been revealed that Jet Li has left the production. But, before this departure could sink XXX: The Return Of Xander Cage into anything close to a crisis, it was confirmed that Donnie Yen has replaced Li, which isn't the worst trade off.
Rather mysteriously though, sources close to Twitch Film revealed that Jet Li left the project for undisclosed reasons. But with the martial arts superstar off the production, there was now a gaping hole for Vin Diesel and company to fill. And The Last Witch Hunter actor didn't miss a beat in casting Donnie Yen as Jet Li's replacement. Diesel also took to Facebook to show an image of himself, Donnie Yen, and director D.J. Caruso working on a scene.
Donnie Yen long ago established himself as one of the most formidable martial arts actors in cinema thanks to his work in the Ip Man franchise and countless other action films. His stock has been rising in the United States recently, and 2016 is expected to be a rather big year for him. Not only is he taking one of the leading roles in Crouching Tiger, Hidden Dragon II: The Green Legend, but he also has a prominent part in Rogue One: A Star Wars Story .
The Donnie Yen and Jet Li merry-go-round at XXX 3 doesn't mean that the production is in disarray though. The film's already confirmed roster hasn't changed much, with Vin Diesel being joined by Tony Jaa, Deepika Padukone, Toni Collette, and Samuel L. Jackson, while D.J Caruso is still directing the latest instalment.
There's even a rumor that Ice Cube, whose acting stock has only risen since his appearance as Darius Stone in XXX: State Of The Union, will also return. As yet, there's no confirmation that the 21 Jump Street and Ride Along star will actually appear, but let's hope that proves to be the case, because it's always good to see Cube's gruff exterior pop up on screen.
What makes XXX 3's release all the more impressive is just how poorly XXX: State Of The Union fared back in 2005. With Vin Diesel deciding not to reprise the character of Xander Cage, whose extreme sports antics in 2002's XXX resulted in the film grossing $277.4 million, Ice Cube was brought on board to lead the new iteration of the franchise. That didn't end well though, because it cost $87 million and only took in $71 million.
The combination of the duo would certainly make XXX 3 even more appealing to audiences, especially since both Furious 7 and Ride Along 2 recently proved to be box office behemoths. XXX: The Return Of Xander Cage is currently in production, and it's likely to hit screens at some point in 2017.