Vin Diesel's XXX 3 Just Added An Unexpected Actress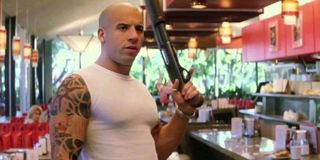 You may have already noticed, but over the course of his career, Vin Diesel has had a way of making his passion projects magically materialize as if by sheer force of will. He may have talked his way into a Marvel movie; we didn't expect to see another installment in the Pitch Black saga after Chronicles of Riddick, but then Riddick came to be; and he's doing it again with xXx 3: The Return of Xander Cage, a franchise most thought was long dead. Production is slated to begin soon, and they just added an unexpected member to the cast, as Academy Award-nominee Toni Collette has joined the extreme sports party.
xXx 3 is only a few weeks away from kicking off production, but there is still room to fill out the roster, and according to The Hollywood Reporter, one of these slots will be occupied by Toni Collette. The Australian actress has been nominated for both an Oscar and a Tony, and will reportedly play a bureaucrat in an intelligence agency. Though there's no word on whether she's a supporter or antagonist of our hero Xander Cage, the extreme sports star turned agent of espionage.
Collette joins what has become an awesome, if wildly eclectic cast. Vin Diesel will return in the lead role, Samuel L. Jackson will reprise Agent Augustus Eugene Gibbons, and Ice Cube has even been rumored to be back as his Darius Stone character from xXx: State of the Union. And then there are the franchise newcomers. Martial arts stars Tony Jaa and Jet Li will be on hand to pummel the beefy lead about the head, neck, and torso; Orange is the New Black's Ruby Rose is on board; UFC champ Conor McGregor will likely throw some punches; The Vampire Diaries' Nina Dobrev will figure in; and Bollywood star Deepika Padukone will make her U.S. debut.
Like I said, eclectic.
There aren't a lot of details about Toni Collette's character, but an obvious point of comparison seems to be Joan Allen's character form the Bourne movies. My guess is that she'll be some kind of high-ranking intelligence officer that doesn't approve of Xander Cage's unusual methods.
The larger plot is also being kept under wraps, but the rumors indicate that after being left for dead, Xander Cage resurfaces in secret and takes on dangerous new assignments from Augustus Gibbons. Odds are these missions will involve lots of high-octane stunts like snowboarding, motorcycle jumping, and the like. The story is also said to feature two teams of badasses that go head to head.
Directed by D.J. Caruso (Disturbia), xXx 3 plans to shoot in Toronto and the Dominican Republic. There's no set release date yet, but it will likely drop sometime in 2017.
Your Daily Blend of Entertainment News