Vince Vaughn Talks About His Return For Anchorman 2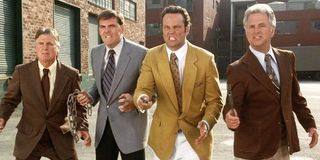 Last December I was fortunate to be one of the bloggers invited to visit the set of the DreamWorks dramedy Delivery Man. There I had the chance to sit down with the movie's talkative leading man Vince Vaughn, and while he shared his thoughts on improvisation, his own acting method, and this American remake of Starbuck, he also took a moment to tell us he would be reprising his memorable role of Wes Mantooth in Anchorman: The Legend Continues. This is where the embargo on set visits can be especially vexing, when you learn a bit of news you won't be free to share for months on end.
Vaughn's involvement in the much-anticipated sequel to Anchorman: The Legend of Ron Burgundy was officially announced in February of this year. But below you can see what the comedy all-star chose to share with eager Anchorman fans:
You can learn more about Vaughn's involved thoughts on improvisation here, and revisit Wes Mantooth's pivotal scene from the first film below:
Anchorman: The Legend Continues reteams producing partners Adam McKay and Will Ferrell, the former directed the sequel that the pair wrote together. Ferrell of course stars as the titular newscaster Ron Burgundy, and will be joined once again by Vaughn, Paul Rudd, Christina Applegate, Steve Carell, and David Koechner. And thanks to the powerful reputation the daffy 2004 comedy has earned over the years, Anchorman 2 will also feature a plethora of noteworthy newcomers to the cast, including Nicole Kidman, Harrison Ford, Kristen Wiig, and Tina Fey.
Anchorman: The Legend Continues opens nationwide on December 20th.
Staff writer at CinemaBlend.
Your Daily Blend of Entertainment News
Thank you for signing up to CinemaBlend. You will receive a verification email shortly.
There was a problem. Please refresh the page and try again.