Wait, Amazing Spider-Man 3 Definitely Is Happening?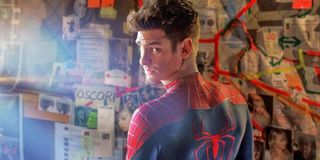 There's been an ongoing debate of whether or not The Amazing Spider-Man 3 is actually going to happen. Between talks of Marvel Studios taking over the character and potentially ditching Andrew Garfield as lead, and Sony struggling to revive the franchise after not performing as well as they hoped on The Amazing Spider-Man 2, there hasn't been a clear cut answer on what's happening with the film. That is until now. A recent casting call for extras proves that The Amazing Spider-Man 3 is definitely happening.
Bill Beckman Casting just sent out a casting call looking for male and female extras of all ages and ethnicities, ages 18-65, and it gives us some more information on the film then we've gotten before. First off, it confirms that Sony is the studio producing. It also lists the starring actors as Andrew Garfield and Dane DeHaan with the description, "Peter Parker/Spider-man faces a new challenge to protect New York City". So it looks like the quirky cute Andrew Garfield will be suiting up as Spider-man once again.
Before the release of The Amazing Spider-Man 2, Sony had teased the release dates for the third and fourth film to be in 2016 and then in 2018. But with the disappointing box office reception, there was rumor that the third movie wouldn't be until 2018 with Sinister Six coming out first. And then the Sony hack happened, and we saw a lot of confusion on what was going to happen with Spidey with possibility to bring him into the MCU or a total reboot. So does this casting call mean that we won't see Spider-man alongside any other Marvel characters any time soon? And is Sinister Six still happening in 2016?
The fact that there is already a casting call out means that shooting is either already happening, or very soon to come, so we have to imagine that the new Spidey film is scheduled for much earlier than 2018. But, while this may confuse the basic timeline of things, and what, if any, role Spiderman may play in the MCU, I do have to admit, I'm pretty excited to see Andrew Garfield back as Peter Parker. His goofy charm was perfect for the character, especially with the comic book humor that hadn't been as prevalent in the other Spider-Man franchise.
Despite Garfield's lovable attributes though, the second film was a flop, and we'll have to cross our fingers that the same mistakes won't be made in this third film. Sony seems to think they will do just fine though, as a couple months ago they predicted that the franchise will have a revenue growth of "as much as 36 percent". If they really do believe this to be true, maybe the saying does go, and they are 'putting their money where their mouths are'. Maybe Sony's putting a lot of money and effort into this next film to guarantee better results. We'll keep an eye out, more info is bound to come along with this casting call.
Your Daily Blend of Entertainment News