Wait, Encino Man 2? Here's What Pauly Shore Says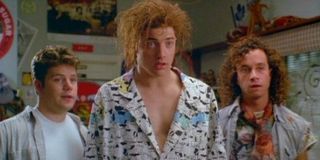 Pauly Shore has uttered the words that every fan of early 90s high concept comedies has been longing to hear for over 20 years: he wants to make Encino Man 2. Whether he'll have Brendan Fraser and Sean Astin on board for the follow-up remains to be seen, but either way just the idea of Encino Man 2 is enough to get people excited.
While talking to Variety, Pauly Shore declared, "Encino Man 2 – let's do it. My agent and I are talking about it." Pauly Shore did go on to mention that the original writer of Encino Man, Shawn Schepps, does have an idea for a second film. However Shore confessed that she hasn't actually started writing it yet. In fact Shore wouldn't even elaborate on what Encino Man 2 might consist of. Instead he looked to remind people just how enjoyable the first Encino Man film was by declaring, "I think it would be fun. It was a cute movie." But how does Pauly Shore actually expect to generate interest in Encino Man 2, especially since the original was released all the way back in 1992? "Just Tweet at Brendan and Sean Astin and Disney," is his plan.
There was something delightfully stupid about Encino Man that audiences couldn't help but be charmed by. And even though Encino Man 2 would almost certainly be a cinematic abomination, I'd still nostalgically embrace its return to the big screen. But we're still a long way away from that actually happening. In fact at the moment it sounds as if Pauly Shore and his agent are the only two people in the world who have actually seriously thought about the sequel.
Other than cyber bombardment, I'd have thought that Pauly Shore would have been pulling out all of the stops in his attempt to bring the comedy back for a follow-up adventure. Surely he should have at least started a Kickstarter campaign by now! Encino Man was probably Pauly Shore's biggest hit as his career soon nose-dived after its release. For the uninitiated, Pauly Shore and Sean Astin starred as two geeky teenagers, named Stoney and Morgan, from Encino, Los Angeles. They discover a caveman in Astin's backyard, and hilarity then ensues. The caveman, who was portrayed by Brendan Fraser, is subsequently taught how to exist in the 20th century. It was really, really dumb, but also absurdly sweet and actually a little funny in places. You can check out the original trailer for the comedy below. Warning it does feature a Right Said Fred song though.
As you can imagine critics savaged the film upon its release and Pauly Shore even won the Razzie Award for Worst New Star. But it was a relative box-office hit. In fact it grossed $40 million from a $7 million budget. Whether that is enough to generate studio interest in a sequel is highly unlikely. But I don't think anyone should tell Pauly Shore that. He probably thinks that this is his return ticket to the Hollywood big time.