Watch Frozen's Elsa Drop Snow White And An F-Bomb In This Ice Cold Rap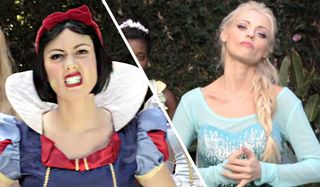 WARNING: This video includes language that is NSFW.
Just when you thought you've seen every Frozen parody imaginable, comediennes Whitney Avalon and Katja Glieson wage a rap battle between Disney's first princess and their latest. Snow White's eponymous pale princess sneers at Frozen's Elsa, mocking her messy hair and interior design skills. But can she withstand what happens when Elsa lets it go with f-bombs and powers of ice and snow?
There's a lot to admire in this clever parody that pulls influence from the viral webseries Epic Rap Battles. First off, props to Avalon who nails Snow White's high-pitched voice while laying down cutting rhymes "like a boss." But you can't beat the contemporary swag of Glieson's enraged ice queen. She's rocking that floppy, sloppy ponytail (no matter what Snow says) and she's not only got supernatural powers, but that belter's bravado.
Playing back-up/hype(wo)men to these dueling Disney princesses are their peers. A nod to old school Disney animation, Snow White's backed by Sleeping Beauty's bed-headed Aurora (Briana White) and a duck-facing Cinderella (Brittany Jo Gaylord). Representing for the recent wave of self-rescuing princesses, Elsa's got her girls, The Princess and the Frog's Tiana (Shawana Carter) and Brave's smirking Merida (Caroline Gayle).
Often the winners of rap battles is a matter of debate, but I got to give it up to Disney's latter-day princesses. Not only do they own the insult-driven duet, they also get in a wordplay dig at Snow White's curious cohabitation situation. (Hi, ho!)
But hey, there are lots of golden moments to go around. We've isolated some of our favorites for future GIF use.
Snow White goes blue.
Elsa responds with a dig at Snow's damsel in distress status.
And of course, Elsa outranks Snow.
Check out more from Whitney Avalon here.
Staff writer at CinemaBlend.
Your Daily Blend of Entertainment News
Thank you for signing up to CinemaBlend. You will receive a verification email shortly.
There was a problem. Please refresh the page and try again.