Watch Susan Sarandon Act Out 3 Hysterical Thelma & Louise Alternate Endings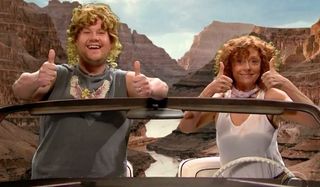 Thelma & Louise, played by Geena Davis and Susan Sarandon in the 1991 movie, went out with a bang. Spoiler alert if you haven't seen the film, but it ends with these two best friends driving over a cliff and plummeting into a canyon rather than getting taken in by the police. It's one of those classic movie endings, but thanks to Sarandon and James Corden, there are a couple more alternate endings.
Sarandon reprises her famous role of Louise, while the Late Late Show host takes over for Davis as Thelma. If you've been dying to know what was going through their minds when these characters drove off the cliff and headed straight for a rocky grave, these new sketches answer that for you. Apparently, there's a range of alternate endings, from a misunderstanding to an Ed's Muffler & Brakes promo, that didn't make the cut.
Corden is not afraid to crossdress for his art, and he's spectacular as Thelma, flaunting that endearing Southern charm. Overall, he has been killing it as Late Late Show host, and we can probably attribute that to his years as a Tony-winning Broadway star. Audiences saw him recently in the movie version of Stephen Sondheim's Into the Woods as the simple baker trying to break a witch's curse. Since taking over for Craig Ferguson, he hasn't stopped performing in sketches alongside his star-studded guests. Some of his killer bits include the Basic Instinct remake, where he took over for Sharon Stone opposite Michael Douglas; reenacting all of Arnold Schwarzenegger's films with the Terminator himself; Carpool Karaoke installments with Jennifer Hudson and Mariah Carey; and that jaw-dropping underwear ad with David Beckham. These Thelma & Louise alternate endings are more astounding work to add to his resume.
Here's the original ending scene for comparison.
The original Thelma & Louise was directed by Ridley Scott. Thelma, a housewife bored with her average life, goes on a fishing trip with her best friend Louise, a diner waitress. After a fun road trip in a convertible, some dancing at bars and a couple of Wild Turkeys, Louise fatally shoot a man who tries to rape Thelma. Their venture quickly turns into a cat-and-mouse game with the cops. As it turns out, the ending was almost different. Sarandon and Davis reunited for an issue of The Hollywood Reporter to reflect on the film. According to Sarandon,
While that would've been cool to see, Susan Sarandon's alternate endings with James Corden are still Oscar worthy, in my book.
Your Daily Blend of Entertainment News
Your Daily Blend of Entertainment News
Thank you for signing up to CinemaBlend. You will receive a verification email shortly.
There was a problem. Please refresh the page and try again.