We Almost Got A Different Version Of Pan's Labyrinth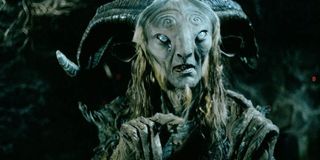 Ask any Guillermo del Toro fan and they'll tell you that Pan's Labyrinth is not only an artistic triumph, it's also his best film to date. That could have changed, as I found out that the Academy Award winning film could have been made in a much different manner than it ended up.
During the press conferences for Crimson Peak, I was able to be part of the eager audience hungry for details from the more than accommodating del Toro. You could ask him a question about one subject, and he not only would answer your original question, but he'd provide so much more information that you feel spoiled. This was the case when one of the reporters in our audience asked whether the Crimson Peak director had a plan for which films to make in Spanish, and which ones to make in English, or if he made that choice in service to the story. His following response was no surprise, but extremely insightful:
Most other directors could easily forego seeking ethnically authentic actors, in exchange for a greater budget, and possibly the more prestigious players they could afford with that money. To a certain extent, films like Valkyrie, Exodus: Gods And Kings, and most recently The Martian have re-written / cast against the ethnicity of the original characters involved; and sometimes that works. But Guillermo del Toro knows how the Hollywood game is played, as he exhibits in the following train of thought:
Imagine a Pan's Labyrinth where all you see are familiar faces that are not only trying to convince you they're actually part of the Spanish Civil War, but also that they are part of the fantastical world crafted by young Oflelia's imagination. Of course, considering the era of filmmaking that the film was made in, you probably would have seen Dakota Fanning as Oflelia and Hugh Jackman as Captain Vidal – so you could see where things would get a little bit distracting.
On top of staying true to the story of Pan's Labyrinth, or any other film that Guillermo del Toro has ever made, he is also a firm believer of jumping from larger to smaller projects from time to time. In recent remarks he's made in other interviews, the director has talked about a return to smaller films like Pan's. Some would write it off as a direct response to Pacific Rim II and Hellboy III basically dying on the table before they could even go into production. But as a matter of fact, it's del Toro's personal creed of not getting too used to a large or small budget that's driving him.
With a film that he described as Wall-E meets Splash already in the pipeline, it looks like Guillermo del Toro will not let any obstacle, be it man made, market driven, or studio mandated, get in the way of making his perfect vision for whatever film is on his plate at the time. It's a personal belief that makes Crimson Peak all the more impressive to experience, and experience it you must.
Crimson Peak opens in theaters tomorrow, but may have some early showings in your area tonight. Check your local listings (opens in new tab) to be sure.
Senior Movies Contributor
CinemaBlend's James Bond (expert). Also versed in Large Scale Aggressors, time travel, and Guillermo del Toro. He fights for The User.
Your Daily Blend of Entertainment News
Thank you for signing up to CinemaBlend. You will receive a verification email shortly.
There was a problem. Please refresh the page and try again.